Regals Climb into Third Place at SCIAC Championships
CLU moves from fourth to third during second round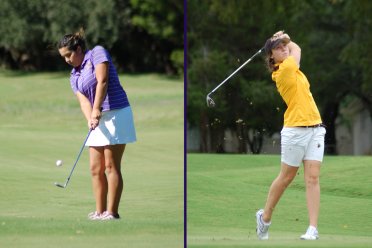 BEAUMONT, Calif. – After a slow start in round one, the Cal Lutheran women's golf stormed back in round two Sunday and moved into a third place headed Monday's final round of the Southern California Intercollegiate Athletic Conference (SCIAC) Championships held at Oak Valley Golf Club. The Regals improved 17 shots from Saturday to Sunday, combining for a score 341 during the second round.
A day after managing a first round score of 84, Cal Lutheran's No. 1 McKay Weiler recording the fourth-lowest score of the day on Sunday, turning in an eight-over 80 which also puts her in a tie for ninth.
Danika Cochiolo, playing as the No. 2, has been a steady force during the tournament, shooting 87 during the first round and recording an 86 during the second. With her two-day score of 173, the freshman is tied for 16th headed into the final round.
Aida Mahfood had the strongest turn-around from day one, improving her second round score by eight strokes as she finished with an 86. Her two-day total of 180 puts her in a tie for 20th.
Lisa Borgialli is not far behind has shooting a second-round 89, giving her a two-round score of 183 and Devon Meredith round out the Regals with a two-day score of 185. Emily Bullen, competing as individual, improved her score by four shots on day two, recording a 94.
Shaina Raskin of Claremont-Mudd-Scripps leads the tournament by eight shots after recording a 148 through the first two rounds. Her teammate Tiffany Sue, is in second with a combined score of 156 and Tiff Gu of Pomona-Pitzer third with a score of 157.
The battle for third place is on as the Regals two-day score of 699 is just two shots ahead of Pomona-Pitzer. No. 5 Claremont-Mudd-Scripps leads with a combined score of 624 and Redlands is second with a two-day total of 662.
The final round starts Monday at 7:30 a.m.
Facebook: www.facebook.com/clusports