Ballou Earns Singles Title, Doubles Crowned Ojai Champs
Ballou captures single title, combines with Worley to win doubles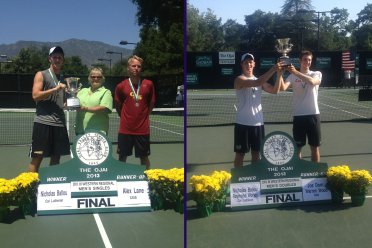 OJAI, Calif. -- For the second consecutive year, Nicholas Ballou returns to Cal Lutheran as the Ojai Tennis Tournament singles champion. The 2013 tournament was a little different for Ballou however. Pairing with his doubles partner Ray Worley, the duo avenged a 2012 finals loss Sunday with a 6-2, 6-0 victory to claim the doubles championship.
The No. 1 seeded Ballou completed his 5-0 march through the tournament with a 6-2, 6-2 defeat of Alex Lane of Claremont-Mudd-Scripps. Also the No. 1 rated singles player in Division III, Ballou improved his season record to 20-0. The senior from Orinda, Calif. will now look to defend his 2012 Southern California Intercollegiate Athletic Conference (SCIAC) singles title with the championships beginning next weekend.
It was a quick turnaround for Ballou as his doubles semifinal pairing against Gram Leahy and Patrick Lipscomb of Redlands was just an hour after his singles final. Unfazed, Ballou and Worley turned back the Redlands duo 8-2 to set up a finals showdown with second ranked Warren Wood and Joe Dorn of Claremont-Mudd-Scripps. After defeating Wood and Dorn 8-4 back on April 5, Ballou and Worley took the rematch in similar fashion, winning 6-2, 6-0 and giving the two seniors their first Ojai Tournament doubles championship together.
Also the defending SCIAC doubles champions, Ballou and Worley will look to repeat when the tournament starts on Friday, May 3. The tournament will be held at multiple sites but will be hosted by Whittier College.
Results: Ojai Day Three
Facebook: www.facebook.com/clusports