Regals Win Season Finale
CLU concludes season with victory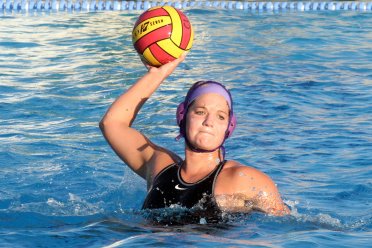 PASADENA, Calif. – On the final day of the 2013 Southern California Intercollegiate Athletic Conference (SCIAC) Women's Water Polo Tournament at Pasadena City College, Cal Lutheran routed Chapman with a 17-9 victory in the season finale.
In a battle of the fifth place consolation final it was the Regals who took an early 5-2 advantage on the Panthers. The Violet and Gold added four unanswered goals in the second stanza to lead 9-2 at the intermission. Two more in the third and six in the final frame were too much of a gap for CU to contend with.
Today marked the sixth consecutive game in which Cal Lutheran has held its opposition to single digit scoring asfour seniors donned CLU colors for the final time.
In her final appearance in the pool Morgan McCardell made it one to remember with a five-goal game. Classmates Jane Galluzzi and Shannon Streeter scored twice and once, respectively, for the Regals with Galluzzi also grabbing three steals.
Senior goalie Kylee Tomasetti played her final four quarters guarding the cage and turned away eight shots, adding a steal in the win.
Spreading the scoring effort around, Kehau Ai, Adrienne Ingalla and Kaylee Kastrup were responsible for netting a pair apiece and Jordan Card, Tatiana McCuaig and Skylar Vasquez each scored one as well.
Ai and McCuaig chipped in at the defensive end of the pool combining for six steals, three apiece.
Cal Lutheran (13-15, 7-4 SCIAC) concludes the season with their eighth consecutive season with a .500 or better record in league play.
Box Score: CLU 17, CU 9
Tournament Central: 2013 Women's Water Polo SCIAC Championships
Facebook: https://www.facebook.com/clusports