Kingsmen in Fourth after First Round at SCIAC Championshps
CLU shoots 301, ULV leads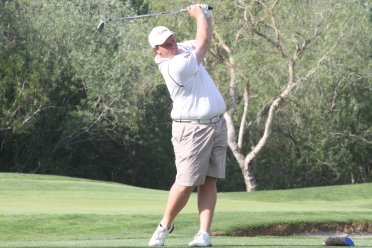 BEAUMONT, Calif. – The Cal Lutheran men's golf team is in fourth place after shooting a combined 301 during the first round of the Southern California Intercollegiate Athletic Conference (SCIAC) Championships played at Oak Valley Golf Club Saturday. La Verne is two shots ahead of Claremont-Mudd-Scripps after combining for a first round score of 296. Chapman is third with a day-one total of 298.
Mikey McGinn and Barret McGinnis are tied for sixth place on the leaderboard after both firing even-par scores of 72. McGinnis's even-par 72 marked his best score of the year.
Bobby Griffin, playing in his first SCIAC Championships, is tied for 17th, managing a first round score of six-over 78 and teammate Chad Kimmelshue is stroke behind with a seven-over 79.
Parker Colvin and Cody Price are both in the top 35 of the leaderboard after shooting 80 and 83 respectively.
The Kingsmen will all be chasing Lyon Lazare of Chapman who leads after the first round five-under 67. Kethan Reddy of Claremont-Mudd-Scripps is second with a three-under 69 and Paul Gomez of La Verne is in third with a two-under 70.
The field of 48 will take to the par-72, 7,003 yard course for the second round beginning at 7:30 a.m. on Sunday.
Results: Round 1- 4th (301)
Facebook: www.facebook.com/clusports