Stags Claim SCIAC Men's Track & Field Title; Kingsmen Place Fourth
Claremont-Mudd-Scripps returns to top of podium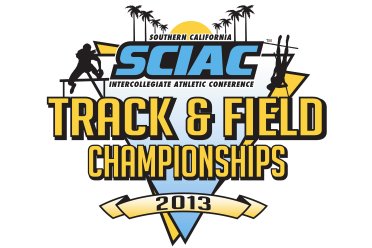 LOS ANGELES, Calif. – After a two-year hiatus from the top of the podium the 2013 Claremont-Mudd-Scripps Men's Track and Field team claimed their 20th Southern California Intercollegiate Athletic Conference (SCIAC) title this evening at Occidental College.
After jumping out to an early lead on day one, CMS maintained the momentum on day two, tallying 212.50 total points to edge La Verne (148.50) for the championship. Redlands, the two-time defending champion, was third with 126.50. Rounding out the field were Cal Lutheran (86), Whittier (69), Occidental (45), Pomona-Pitzer (40) and Caltech (12.50).
La Verne added to their day one tally early with the Triple Jumping trio of Jacob Lopez, Jabre Millon and James Frances sweeping the top three spots for the Leopards. Lopez won with a jump of 13.70m (44-11.50) with Millon recording a leap of 13.59m (44-07.00) ahead of Frances' mark of 13.43m (44-00.75).
In the field events, the dramatics were on in the Hammer Throw to start the day off. A four-year rivalry between 2012 event champion Chris Gage (UR) and Roy Diaz (CLU) came to a head this afternoon. Gage used his final throw of 50.08m (164-04) to take over the lead Diaz had taken on his second attempt. In the final throw of his Kingsmen career, Diaz threw a lifetime best 50.84m (166-09) to win by two feet. Nicholas Hobbs earned CMS third place points with a mark of 48.74m (159-11).
Discus followed where Jorge Cervantes took a lead on his fourth throw that went for 44.67m (146-07) and no one could catch him. Cal Lutheran earned second and third places with James Laughlin using his last mark of 43.74m (143-06) and Diaz opening with a 41.81m (137-02) throw.
Both Whittier relay teams got the crowd on its feet. To open the running events on the final day was the 4x100m Relay. Kevin Curbelo, Kimble Tillman, Andres Vega and German Fabela combined to go a SCIAC and Meet record time of 40.66 that ranks the Poets quartet No. 1 in the nation. Closing out the event was the 4x400m Relay in which Samuel Bettencourt, Vega, Curbelo and Fabela crossed the line in 3:12.15 to set another SCIAC record, breaking a mark set in 1988. That time is currently third in the country at the Division III level.
WC swept the 400m race as well. Fabela, Vega and Curbelo went 1-2-3 in 46.94, 47.50 and 47.58, respectively.
For the first time of his career Jonathan Pardon (Oxy) was not atop the standings in the 100m dash. Tillman made the final 100m race of his collegiate career one to remember as he defeated the two-time defending champion with a clocking of 10.59. Padron crossed in 10.75 followed by Nick Gonsalves of La Verne in 10.95.
Michael Anderson (LV) repeated as the SCIAC champion in 110m Hurdles in 15.12 just edging out CLU junior Erik Fruth (15.19). Alex Jundsten (WC) was the next hurdler home in 15.48.
Three different faces found the podium in the 400m Hurdles. Sophomore Matt Espy won the race for CMS in 54.10 just ahead of Occidental sophomore Jesse Wong (54.30). Victor Rodriguez (55.85) took the third spot four hundredths of a second ahead of teammate Andrew Cruz (55.89).
The Stags ran to 1-2 finishes in both the 1,500m and 5,000m distances events. In the 1,500m it was the freshman-senior duo of Evan Molineaux (3:55.47) and defending champion Bennett Naden (3:55.51) to represent CMS. Colin Smith (Oxy) was the only other participant to break the four-minute mark, finishing in 3:56.88 for third.
Tonight's 5,000m race then featured Brian Sutter defeating teammate and defending champion Rafer Dannenhauer by crossing the line in 14:45.66 while Dannenhauer clocked a 14:46.22. Alexander Johnson (PP) made it a senior sweep, earning the third spot in 14:55.01.
One of the closest races of the evening came in the 800m. Separated by 62 tenths of a second, Justin Jones (CMS) legged out a 1:53.16 victory. Dominick Allen (CLU) came on strong in the final 100 meters to take second in 1:53.77 by the slimmest of margins, a hundredth of a second, over Redlands' Dominic Lopez (1:53.78).
Three different schools stood on the awards stand for the 200m ceremony. Chancise Watkins won the final league race of his career in 21.31 followed by UR sophomore Taylor Browning (21.59) and CMS senior Jeff MacDonald (21.82) as the only three sub-22 second finishers.
Late in the afternoon Darron Usher became a two-time SCIAC champion in the High Jump for Redlands by equaling his result from last year at 1.97m (6-05.50). Justin Schneider (CMS) was second in his first SCIAC championships meet, clearing 1.92m (6-03.50). Frances added six points to the Leopards' total with a jump of 1.87m (6-01.50).
Prior to the start of competition on day two all members of all teams with coaches and support staff met on the infield and joined hands to honor Whittier senior Alyssa Sialaris, who lost her life earlier this month, with a moment of silence. As the teams spread out they unknowingly created a shape resembling a heart as Dixon Farmer, the public address announcer spoke about the gathering of heavy hearts and her love for competing in the SCIAC. Many athletes, from WC and other schools, donned ribbons with her initials.
With NCAA Division III National Championships set for May 23-25 in La Crosse, Wis., athletes will have a few more opportunities to compete at last chance qualifiers prior to the announcement of the national qualifiers in early May.
Results: SCIAC Championships Day Two
Results: SCIAC Championships Day One
Championship Central: 2013 SCIAC Championships
Facebook: https://www.facebook.com/clusports