Regals Track and Field SCIAC Championships Preview
CLU looks to repeat at SCIAC Champs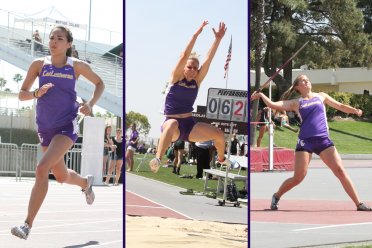 THOUSAND OAKS, Calif. -- The Cal Lutheran women's track and field team will host the 2013 Southern California Intercollegiate Athletic Conference (SCIAC) Championships Friday, April 26, and Saturday, April 27. The championships will be held at Bill Henry Olympic Track on the campus of Occidental College. The meet will begin at 10:00 a.m. on Friday and 1:00 p.m. on Saturday.
Cal Lutheran will be looking to repeat as championships after capturing its first title in 2012. The Regals return seven athletes that earned All-SCIAC honors last season at the championships. So far this season, CLU is 6-2 and is coming off a strong performance at the Pomona-Pitzer Invitational where four personal-best times were set.
Sprints
Cal Lutheran boasts one of the deepest sprinting groups in the conference. Leading the way is the 100 meter dash trio of Amy Galipeau, Kendall Sauter and Taryn Thordarson. Thordarson finished fifth at the SCIAC Championships last season after clocking a time of 12.56. This season, Galipeau has run a personal-best of 12.61 while Sauter is right behind her, clocking a 12.69 earlier this year.
The Regals will look to defend their 200 meter dash crown after Julea Juarez won in 2012. Galipeau and Lauren Rohach are poised to contend for a spot on the podium after strong 2013 seasons. Galipeau finished fourth at the Championships last season and has a clocked a low of 26.54 this season. Rohach won the SCIAC No. 1 200 meter race earlier this year and has recorded a season-low time of 25.57 seconds in 2013.
Also expect to see Audrey Dow and Lauren Kennedy compete for a medal-finish. Dow ran a 26.38 this season and Kennedy gives CLU another runner that can clock a sub 27 seconds time.
Rohach will also contend in the 400 meter dash after finishing seventh at the Championships last season. The versatile junior recorded a time of 58.86 earlier this season which was the sixth fastest time in CLU history.
During the hurdles portion, CLU will expect to see strong performances from Kennedy and Amanda Hamilton. Kennedy has recorded a personal-best time of 15.51 seconds in the 100 meter hurdle race while Hamilton already holds the school record in the 400 meter hurdle race in her first season as a Regal.
Cal Lutheran will also look to defend its 4x 100 and 4x 400 meter relay race titles from a year ago. Sauter, Rohach, Galipeau and Hamilton will make up the 4x 100 meter team. During the SCIAC No. 3, the quartet set a school record with a time of 47.87 seconds. Amy Falahat, Hamilton, Katie Kirchner and Rohach will compete as the 4x 400 meter relay team.
Distance
In addition to its sprinting prowess, Cal Lutheran also has a number of distance record holders. Ashley Frese won the SCIAC No. 3 800 meter race earlier this season and has recorded a personal-best time of 2:19.15.
Frese will combine with Chelsea Feller and Melissa Skiba to form a competitive group in the 1500 meter race. Skiba is the favorite heading into the race already holding the school record by more than three seconds. Frese recorded a season-best time of 4:36.52 during the Pomona-Pitzer Invitational while Feller finished third at the SCIAC No. 3
Skiba will also look to capture the 3000 meter race title after breaking the school record earlier this season in a time of 10:05.91.
In the 5000 meter race, Cal Lutheran looks to five runners vying for All-SCIAC honors. In addition to Feller and Skiba, Natalie Bullock, Amanda Miller and Taelor Young have each recorded times in the top ten all-time at CLU this season.
Field Events
Mary Case, Emily Ginter, Sheyenne Machida, and Laurel Skinner will all compete in the pole vault. Case, Ginter and Machida have all cleared 3.0 meters in their careers with Case leading the way with a personal best of 3.15 meters.
Rohach and Sauter will compete in the long jump. Rohach holds the school record with a leap of 5.71 meters and will look to improve upon her second place finish at the SCIAC Championships last year. Sauter finished right behind Rohach in third with a leap of 5.35 meters.
Hamilton will look to bring home All-SCIAC honors in the triple jump. The freshman had a leap of 11.57 at the SCIAC No. 3 which took home first place and set a new CLU record.
Briana Panapa and Tori Dahl will be in all four throwing events at the Championships while teammate Allie Hadley will participate in the javelin. All three own school records in their respective events.
For more information and specific times of events, please go to the 2013 SCIAC Championship page.
Facebook: www.facebook.com/clusports