Kingsmen Rally on Final Day to Finish 3rd
CLU moves from fifth to third during final round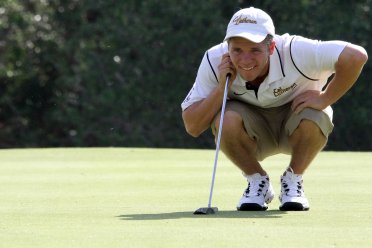 THOUSAND OAKS, Calif. – The Cal Lutheran men's golf team shot a second round 314 to give them a two-day score of 639 (+63) and finish third at the Southern California Intercollegiate Athletic Conference (SCIAC) No. 2 held at La Purisima Golf Club in Lompoc, Calif on Sunday. The Kingsmen were in fifth place after Saturday's first round when they shot a 325.
Bobby Griffin and Mikey McGinn were CLU's top golfers of the tournament with both finishing in a tie for seventh place. After firing a round of a round of 82 on day one, Griffin rallied to shoot a team-low 75 during the final round to give him a total score of 157 (+13).
McGinn was consistent with his scoring, shooting a 79 on Saturday before lowering his score by one with a 78 on Sunday.
Barret McGinnis finished in a tie for 13th after rounds of 83 and 79 to give him a score of 162 (+18).
Right on his heals was Parker Colvin who finished 16th. The senior from Solvang, Calif. shot an 81 on Saturday and then finished with an 82 to give him a two-day score of 163 (+19).
Making his season debut for the Kingsmen was Okkar Oo. The junior transfer from the College of the Canyons finished in a tie for 24th after shooting 86-82 for a final score 168 (+24).
Claremont-Mudd-Scripps captured the tournament with two-day combined score of 619 (+43). The Stags trailed La Verne by three shots headed into the final round before rallying with a second round 308 to beat the Leopards by one stroke.
Brad Shigezawa won the individual title, shooting a 73 during the first round and finishing with a 76 on day to give him a combined score of 149 (+5).
La Verne's Derek Zachman finished one stroke behind Shigezawa to place second and his teammate Kelby Scharmann came in third with a two-day score of 153 (+9).
Cal Lutheran returns to the course one final time before the SCIAC Championships get underway, taking on Chapman in a head-to-head match Wednesday, April 17, at Tustin Ranch Golf Club in Tustin, Calif.
The three-round SCIAC Championships begin April 27 and will be played at Oak Valley Golf Club in Beaumont, Calif.
Results: 3rd- Final Round
Facebook: www.facebook.com/clusports