Regals Round Out Regular Season 6-2
CLU sweeps past CU, Oxy, PP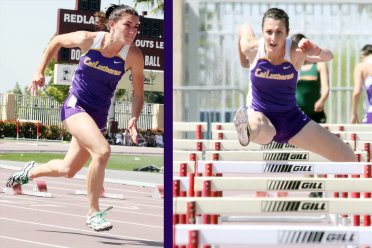 LOS ANGELES, Calif. – The Cal Lutheran women's track and field team used a 3-0 performance at the final Southern California Intercollegiate Athletic Conference (SCIAC) multi-dual meet of the spring to register a 6-2 regular season mark entering SCIAC Championships in a few weeks.
Today the Regals earned victories over all three teams they were competing against, defeating Chapman 135-22, Occidental 118-45 and Pomona-Pitzer 101-62. Earlier this season CLU fell to La Verne by eight points and Claremont-Mudd-Scripps by 18, but was victorious over Caltech, Redlands and Whittier. Though not competing against UR today, CLU defeated the Bulldogs for the second time this spring.
The meet started on the right note as the 4x100m Relay team of Kendall Sauter, Lauren Rohach, Amy Galipeau and Amanda Hamilton combined to crush their previous season best time by 1.25 seconds and set a new CLU school record by .24 with a first place finish in 47.87, to win by nearly a full second.
Winning a pair of individual events for the Regals today was Ashley Frese. She won the 1500m by over three and a half seconds in 4:51.53 and also earned the top spot in the 800m by just under a second in 2:20.71, which now ranks her eighth all-time at CLU.
In another distance event, Melissa Skiba once againpaced the 5K pack, winning by more than five seconds in 18.32.57 and Taelor Young was fifth in 19:13.87.
Hamilton increased her Triple Jump school record ever so slightly to 11.57m, winning the event. She also placed third in the 400m Hurdles with a time of 1:06.76.
Though Rohach placed second in both the 200m Dash and 400m Dash, she was second to a runner from UR so ultimately earned CLU first place points. Her 400m time of 58.86 moves her into sixth place all-time at CLU, just .02 off the fifth place time. She ran the 200m race in 25.73.
Lauren Kennedy continued to dominate the 100m Hurdles course, finishing in 15.51. Scout Gibson (16.62) and Rachael Maurer (17.20) were fifth and sixth, respectively, for the Violet and Gold.
Another dual-event winner was Brianna Panapa who won the Hammer (45.12m), by almost a full 20 feet, and the Shot Put (11.01m). She and Tori Dahl were 1-2 in the Shot Put with Dalh earning a mark of 9.82m. Dalh was the top CLU finisher in the Discus (32.62m) ahead of Panapa (31.02m) as the duo finished 2-3. Panapa was also fourth in the Javelin with a throw of 28.14m to break into the top-10 all-time at CLU in the 9th spot.
In the 100m Dash, CLU took the 4-5-8 spots with Sauter (12.69) and Galipeau (12.73) running step for step just ahead of Kennedy (13.10).
Sauter improved her personal best in the Long Jump to 5.45m, which was good for a second place finish. Rohach was fourth with a leap of 5.28m and Mary Case (5.02m) was fifth.
Maisie Johnson placed third in the High Jump, by clearing 1.55m, but earned CLU first place points as the top finisher amongst teams that the Regals were competing against.
In the Pole Vault Emily Ginter cleared 3.10m to finish second and take over sole possession third place on the CLU all-time list. Both Sheyenne Machida and Case successfully vaulted 2.95m to take fourth and fifth places, respectively. Laurel Skinner was sixth with a clearance of 2.65m.
With only seven women competing in the 3000m Steeplechase, Natalie Bullock was third in a time of 12:18.12 behind a pair of Tigers from Occidental.
The final event of the day was the 4x400m Relay in which Amy Falahat, Hamilton, Kirchner and Rohach combined for a clocking of 4:02.07, second to the Redlands team. Falahat was seventh in the 400m Dash earlier in the meet, finishing in a time of 1:02.89.
Cal Lutheran has one more tune-up meet on Saturday, April 13 at the Pomona-Pitzer Invitational before the SCIAC Championships, which are set to be held April 26-27. CLU will serve as the host of the meet though it will take place at Occidental.
Results: SCIAC No. 3
Facebook: https://www.facebook.com/clusports