Water Polo Washed Out By Athenas
CLU drops one-goal game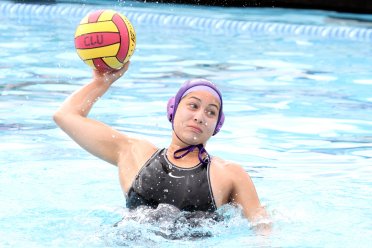 CLAREMONT, Calif. – The Cal Lutheran and Claremont-Mudd-Scripps women's water polo teams were knotted at 4-4 at the intermission. After CMS took the momentum with a big third quarter, the Regals tried to match the feat, but fell one goal short in a 10-9 Southern California Intercollegiate Athletic Conference (SCIAC) loss on the road today.
The teams exchanged two goals apiece in each of the first two quarters before the Athenas stormed out to a 9-5 lead after three. CLU chipped away at the deficit, outscoring CMS 4-1 in the final frame, but came up just short.
Both Jordan Card and Morgan McCardell scored a pair of goals with Adrienne Ingalla, Amanda Jones, Tatiana McCuaig, Julie Samarin and Skylar Vasquez each finding the back of the net once. Ingalla was responsible for a team-leading three drawn ejections in the game as well.
Defensively, Kylee Tomasetti played the entire game in front of the cage, blocking six Athenas shots and coming up with a steal. Kaylee Kastrup was a defensive menace as well with a team-high five steals followed by four from Jane Galluzzi.
Cal Lutheran (8-14, 2-3 SCIAC) returns home to the Samuelson Aquatics Center on Wednesday, April 10 when the Regals host Caltech at 5:00 p.m.
Box Score: CMS 10, CLU 9 – no box score available at time of release
Facebook: https://www.facebook.com/clusports