Regals Can't Maintain Lead Against Poets
CLU falls 6-3 to Whittier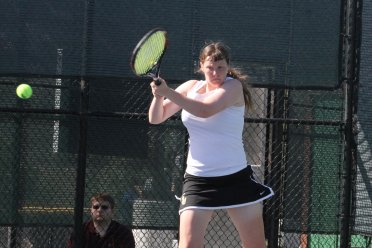 WHITTIER, Calif. -- A day after closely playing No. 2 ranked Claremont-Mudd-Scripps, Cal Lutheran took on Whittier and led 2-1 after the doubles portion of the match but couldn't hang on during the singles as the Poets took the match 6-3 Saturday afternoon.
Cal Lutheran looked sharp to start the match as the No. 1 doubles pairing of Emily Werman and Sarah Baker made quick work of Maegan Zamilpa and Liliana Serylo, defeating the Whittier duo 8-3 for their fourth win of the year.
The Regals' No. 2 pairing of Lauren Toohey and Jacqueline Ramsay couldn't quite find their footing against Adrienne Hamada and Benay Weintraub, falling 8-3 but Cal Lutheran retook the lead when Carly Mouzes and Lindsay Murphy combined for their seventh win of the year when they defeated Lauren Geglur and Bree Campanero 9-8 in the No. 3 doubles match.
Werman earned her team-leading sixth singles win of the year in the No. 2 match when she took down Serylo in impressive fashion, winning 6-1, 6-0.
Unfortunately for CLU, the Regals were unable to maintain their lead as Whittier captured the rest of the five singles matches. Mouzes came the closest to salvaging a point when she tied Weintraub at 5-5 in the second set but the senior couldn't quite piece together the shots and fell 7-5.
Cal Lutheran (4-15, 1-5 SCIAC) closes out its Southern California Intercollegiate Athletic Conference (SCIAC) schedule when it takes on Occidental and La Verne April 12-13. The Regals take on the Tigers on Friday at 2:00 p.m. then the Leopards on Saturday at 10:00 a.m. Both matches will be held at the Poulson Tennis Center.
Results: WC 6 CLU 3
Facebook: www.facebook.com/clusports