Kingsmen Hang On for Win Over Poets
CLU defeats Whittier 5-4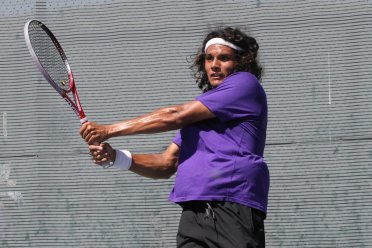 THOUSAND OAKS, Calif. -- The No. 4 Cal Lutheran men's tennis team was maybe feeling some of the after-effects of a hard-fought loss with No. 1 Claremont-Mudd-Scripps the day before as it escaped an upset with a 5-4 win against No. 22 Whittier Saturday morning at the Pouslon Tennis Center.
For the second straight day, Cal Lutheran's No. 1 doubles duo of Nicholas Ballou and Ray Worley cruised to an 8-5 victory over Julian Seneviratne and David Konstantinov. The top rated duo in the west region improved their season record to 14-1. CLU's No. 2 doubles pairing of Alex Nichols and Connor Treacy fell for just the third time this year when they were defeated 8-6 by Chris Schommer and Andrew Hansen.
It looked as though Whittier would come out of the doubles portion of the match leading 2-1 but Cal Lutheran's No. 3 doubles tandem of Thomas Millet and Marcelo Sousa rallied from a 6-3 deficit to win 9-8 (6).
Despite leading 2-1 headed into the singles matches, it never felt as though Cal Lutheran had control of the match. Ballou maintained his perfect singles record, defeating Seneviratne 6-1, 6-2 and improving his season record to 15-0.
A day after upsetting the No. 5 ranked singles player in the west region, Worley took care of business again, defeating Konstantinov 6-1 in the first set before the Poet retired trailing 3-0 in the second.
Trailing 4-1, the Poets mounted a furious comeback with Matthew Herron and Samuel Farmer winning both their matches within minutes of each other. Herron defeated Treacy in the No. 4 singles match 6-4, 6-0 and Farmer defeated Millet 6-4, 6-2 in the No. 4 singles contest to bring Whittier to within one at 4-3.
With Nichols trailing in the No. 3 singles, Devon Belcher stepped up and sealed the Southern California Intercollegiate Athletic Conference (SCIAC) win for the Kingsmen with a tension filled 6-1, 6-3 defeat of Shogo Shimizu.
Cal Lutheran (15-2, 5-1 SCIAC) rounds out its SCIAC schedule when it faces Occidental Friday, April 12, in Eagle Rock, Calif. The match is set to get underway at 2:00 p.m.
Results: CLU 5 WC 4
Facebook: www.facebook.com/clusports