Cal Lutheran to Participate in DIII Week
CLU promotes knowledge of Division III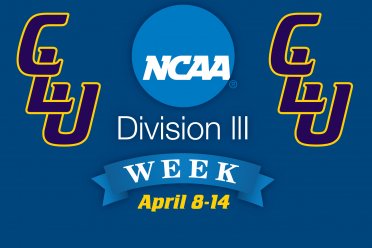 INDIANAPOLIS, Ind. – Including Cal Lutheran there are 446 Division III institutions around the country. During the week of April 8-14, all members will host Division III Week, aimed at celebrating what those schools have to offer student-athletes in the classroom, in the field of play and in the community.
There are 178,441 DIII student-athletes as compared to 459,253 in Division I and II combined from coast to coast. Division III, however, represents the largest division in the NCAA at 40 percent of the total membership.
The NCAA sponsors 28 Championship events with 14 for men and 14 for women. There are also eight National Collegiate Championships. Overall, CLU sponsors 20 intercollegiate athletic programs, which is above the average (17) of like institutions.
Cal Lutheran is one of the 80 percent of active institutions that are private with 20 percent of DIII schools on public campuses. Across the board the average enrollment of Division III schools is 2,734.
All of the schools that fall in the Division III category are expected to promote the model of discover, develop and dedicate. CLU is right on track with that mantra by succeeding academically and athletically while giving back to the community.
In 2013 there will be CLU 147 student-athletes inducted into the Scholar Athlete Society by holding a 3.40 or higher cumulative grade point average. This number is higher than it has ever been and numerous student-athletes throughout the season have earned both Academic All-SCIAC and other sport specific academic accolades.
CLU teams have been just as successful on the field, court, course and in the pool with 10 teams earning national rankings in 2012-13. Both men's golf and women's water polo have held No. 1 rankings in their respective polls this year. CLU teams have claimed four Southern California Intercollegiate Athletic Conference (SCIAC) titles thus far with four teams and one athlete advancing to NCAA Championship play. The spring sports have much hope to increase those numbers with more than half of the teams in the hunt for a league title.
Beyond those two areas, CLU students have also taken time to give back. One example is the Student Athlete Advisory Committee (SAAC) that is headed in 2012-13 by Lauren Rasmussen. She and the other SAAC members have put together a community service project in conjunction with DIII Week.
The group is scheduled to do a Ball and Old Sports Equipment Drive throughout the week of April 8-12. Items will be collected both at the Welcome Desk of the Gilbert Sports and Fitness Center during all hours of operation and in the Athletics Offices during operating business hours (9-5). Additionally, SAAC members will be stationed at the flagpole on Tuesday, Wednesday and Thursday between 11:00 a.m. and 2:00 p.m. to collect items. All donations will be delivered to the Boys and Girls Club of the Greater Conejo Valley.
"The biggest thing with this event is that it is something that the SAAC wants to turn into an annual event during DIII Week and we are really excited about it," Rasmussen said. "The connection to athletics with equipment collection, plus the opportunity to give back to the community by donating items that student-athletes are involved with competitively every day is very rewarding."
Student Life will be sponsoring a series of student giveaways at a variety of athletic events during Division III Week as well.
Cal Lutheran sunglasses will be given out at Men's Tennis against No. 1 Claremont-Mudd-Scripps on Friday at 2:00 p.m. at the Poulson Tennis Center to kick off the weekend. On Wednesday, April 10 the water polo team will host Caltech and rally towels will be handed out at the entrance to the Samuelson Aquatics Center. Women's Tennis fans will have a chance to claim sunglasses on Friday, April 12 when the Regals host Occidental at 2:00 p.m. At Hutton Field softball will host Redlands where seat cushions will be available for student fans at 2:00 p.m. At 3:00 p.m. in Ullman Stadium baseball fans can obtain a stadium cup as the Kingsmen host Whittier. Additionally, free Shave It coupons will be distributed to the first 250 students at any of the games.
Finally, the dining commons will be offering sports themed meals and snacks throughout the week, including a nacho bar, Dodger Dogs, peanuts and popcorn, BBQ Tri-Tip sandwiches and soft pretzels with cheese sauce.
"Excitement is beginning to be generated around Division III week on campus," Director of Athletics Dan Kuntz shared. "We are looking forward to being a part of this unique campaign to promote Division III and the student-athletes we support year in and year out."
Facebook: https://www.facebook.com/clusports