Regals Ousted by Poets
CLU falls to Whittier in road showdown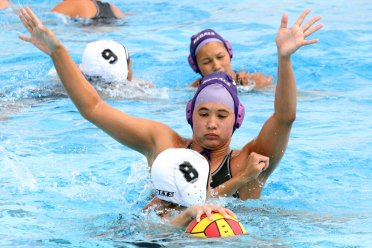 WHITTIER, Calif. – On the same day that the Cal Lutheran women's water polo team moved into the top spot in the Week 11 Collegiate Water Polo Association (CWPA) Poll, the Regals played in a battle for the top spot in the Southern California Intercollegiate Athletic Conference (SCIAC) standings. In a close game, CLU fell short of moving into a share of the league, being defeated 9-7 by Whittier this afternoon.
In the first quarter the Poets took a 3-2 lead and the Regals could never erase the deficit. CLU trailed 5-2 at the intermission, though they came back in the third period with three goals, limiting WC to one to be down by just one entering the final eight minutes. Whittier came back to win the fourth quarter, 3-2, to clinch the victory as the Regals fell to 2-2 in league action this spring.
Jordan Card paced the offensive effort with a hat-trick as well a season-high seven drawn ejections for the Violet and Gold. The remainder of the scoring came by way of a goal apiece from Adrienne Ingalla, Amanda Jones, Kaylee Kastrup and Morgan McCardell.
Defensively, McCardell came up with a team-high four steals while Ingalla, Shannon Streeter and goalie Kylee Tomasetti had three apiece. Tomasetti manned the cage for the entire contest, recording five saves.
Cal Lutheran (8-13, 2-2 SCIAC) remains on the road for a Saturday, April 6 game at Claremont-Mudd-Scripps. First sprint is set for 11:00 a.m.
Box Score: WC 9, CLU 7 – no box score available at time of release
Facebook: https://www.facebook.com/clusports