Power Rankings Have Regals No. 2 in Nation
CLU trails only CMS in first release of season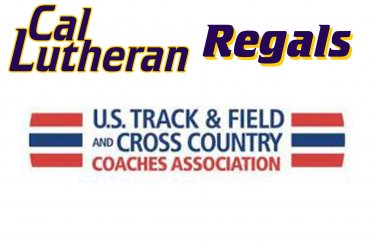 NEW ORLEANS, La. – According to the first Power Ranking of the season announced today by the United States Track and Field and Cross Country Coaches Association (USTFCCCA) the Cal Lutheran women's team is ranked No. 2 in the Nation.
Currently CLU has earned 155.32 points, second only to Southern California Intercollegiate Athletic Conference (SCIAC) rival Claremont-Mudd-Scripps (167.99).
Team points are determined by compiling the sum of all points earned by that team in each event. Teams may select up to two athletes per event with an athlete used in no more than three events, excluding relays, with only one relay team per school per event. The points come from the best marks in an event during the current season only and are based on the strength per event and how those ranked athletes match up against each team in the nation if competing head-to-head.
The Regals broke into the top of the charts with six individuals ranked in seven different events as well as the 4x100m Relay Team of Kendall Sauter, Lauren Rohach, Audrey Dow and Amy Galipeau that is currently 6th in the Nation.
"It is exciting to be ranked this high to start the season," head coach Matt Lea said. "We know that we have a long ways to go until Outdoor Nations in Wisconsin, so we need to keep up the hard work each day and keep our eyes on the end prize." He concluded, "These rankings are a true testament to how hard these young women are working each and every day to improve."
Rohach is the only athlete ranked in three events. In addition to the relay, she is 5th in the Long Jump and 16th in the 200m. Also ranked in the Long Jump is Kendall Sauter who holds the 8th furthest jump in the country.
Melissa Skiba has the highest individual ranking as the 2nd fastest athlete in the 1500m, adding a 6th place rank in the 5000m. Ashley Frese joins Skiba by being ranked 8th in the 1500m.
Another athlete to be ranked in multiple events for CLU is Amanda Hamilton who is 6th in the Triple Jump and 11th in the 400m Hurdles.
Rounding out the ranked Regals is another hurdler in Lauren Kennedy who is currently 9th in the nation.
Cal Lutheran will be back in action on Saturday, April 6 where at the SCIAC Quad No. 3 meet where they will look to improve on their times and rankings for the upcoming polls, which are set to be released weekly through the end of the season.
Poll: Regional Power Ranking – April 3
CLU Breakdown: April 3
Facebook: https://www.facebook.com/clusports