Kingsmen Climb to No. 4 in Nation
CLU tennis ranked among top teams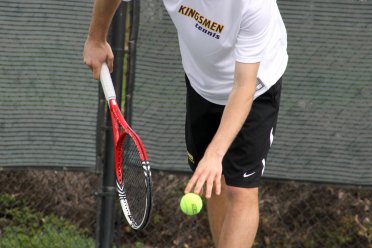 SKILLMAN, NJ – Announced on Wednesday by the Intercollegiate Tennis Association (ITA) the Cal Lutheran men's tennis program climbed to the No. 4 ranked team in the country and currently hold the No. 2 spot in the West Region.
A familiar foe, Claremont-Mudd-Scripps, is both the No. 1 ranked team in the National and Regional polls. Friday, April 5, the Stags will travel to Kingsmen territory as the teams face off in Southern California Intercollegiate Athletic Conference (SCIAC) play at the Poulson Tennis Center beginning at 2:00 p.m.
In addition to the team rankings, the Regional individual and doubles rankings were released. Nicholas Ballou has obtained the No. 1 singles spot with Ray Worley landing as the No. 7 player and Alex Nichols coming in at No. 18.
Since returning to the court in mid-February, Ballou has been unstoppable. His 13-0 record on the number one singles court has propelled CLU to a 12-1 team record as they are currently 14-1 overall.
Worley began the season playing at No. 1 singles, posting a 2-0 record, both against SCIAC opponents. Since that time he has gone on to tally an 11-2 record on the second singles court and boasts an overall 13-2 record.
New to Cal Lutheran, Nichols has wasted no time showing his comfort with the Kingsmen, also holding a record of 13-2 in singles action. In the first two outings of the spring he played at No. 2 and was 2-0. He has since gone on to hold the No. 3 singles spot, providing CLU with an 11-2 mark, which has included a number of match-clinching wins.
The duo of Ballou and Worley are ranked No. 1 in the West with a 12-1 overall season record. Their only loss came at the ITA Indoor National Championships against then No. 9 Kenyon.
Early in the season Worley and Nichols teamed up for doubles on the number one court, going undefeated at 2-0. Nichols has had four different doubles partners this spring and has been most successful playing with Connor Treacy on the number two court for a 7-1 record. Nichols and Ian Slater also earned a doubled victory together at No. 3.
The top-5 teams in the Nation are CMS (15-3), Kenyon (11-3), Emory (8-5), CLU (14-1) and Williams (9-2).
From the SCIAC also earning rankings are No. 12 Redlands (10-7), No. 22 Whittier (8-7) and No. 24 Pomona-Pitzer (5-12).
Cal Lutheran has four more dual matches and the Ojai Tournament before playing for a league title at the SCIAC Championships Friday and Saturday, May 4-5. The tournament will be hosted by Whittier at three different locations, Palm Park, Whittier Narrows and La Mirada.
ITA Poll: National – March 28
ITA Poll: Regional – March 28
Facebook: https://www.facebook.com/clusports