Triumphant Return to Pool for Galluzzi
CLU senior instrumental in success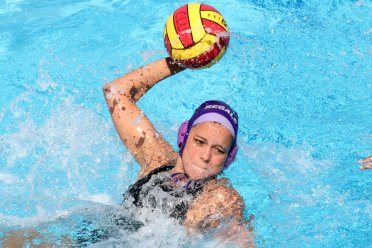 THOUSAND OAKS, Calif. – Jane Galluzzi's parents devised the plan before their daughter even left the hospital.
Galluzzi was recovering from a car accident in which she suffered serious internal injuries, including a ruptured spleen and kidney.
Galluzzi's parents knew she would "freak out" once the doctor told her she couldn't play water polo for a few months.
They told their daughter she could take the rest of her senior year off from Cal Lutheran and return to the team once she was healthy.
"They wanted me to recover from the accident without school or water polo distracting me," Galluzzi said. "It was nice of them to support me and give me that option."
Galluzzi worked at a local public relations firm last year, but her mind never drifted far from the pool.
She was excited to finally get back in the water with her teammates this season. The 5-foot-10 utility player has provided an expected boost.
Galluzzi has scored 23 goals, and continued her stellar defensive play with a team-leading 36 steals.
"It was hard coming back at first. I am not going to lie," Galluzzi said. "There are just so many things you forget about the sport when you are not playing, such as how intense it is. It's really competitive out there and there is a lot of grabbing. It took me a while to get back into that mindset, but it's gotten much better."
Galluzzi has been impressed with the young talent on CLU's team. At age 23, she is a few years older than many of her teammates.
"I have a lot of experience I can share with them because I have played on the team that went to the NCAA tournament my freshman year," Galluzzi said. "It is cool to give the girls a lot of perspective on how to play through a season and play under pressure."
CLU head coach Craig Rond is glad to have Galluzzi back in the lineup.
"I believe the extra year has truly helped her as she is so much more mature as an athlete and person," Rond said. "She plays with a great deal of passion and energy. She's a constant worker throughout games."
Raised in Honolulu, Hawaii, Galluzzi knew she wanted to play college water polo in California at the Division III level.
Her guidance counselor provided Galluzzi with a list of schools, and she visited most of the SCIAC institutions.
During her visit to CLU, an added attraction on campus caught her eye.
"They had the men's Olympic water polo team practicing at our pool and of course I told my mom, 'This is awesome. This school is great,'" Galluzzi said. "Then I met Coach Rond and he was awesome too. I knew CLU was the best fit for me."
Although Galluzzi is climbing the career goal-scoring charts at CLU — she's No. 7 all-time with 97 — she hardly pays attention to her status.
"I am definitely a player who lives in the present," she said. "I have learned so much through this program and the great coaches here. They are like a second family, especially to the out-of-state players. It's just awesome to be a part of this program and I am glad to have so many great memories."
Galluzzi hopes to make a few more before her career is over. Her parents are scheduled to visit at the end of the month, and will be glad to see their daughter back in the pool instead of in the hospital.
"They are coming to the SCIAC tournament and they are really excited," Galluzzi said. "They would rather go to that than my graduation."