Kingsmen Win Two Events at Invite
CLU has strong spring break showing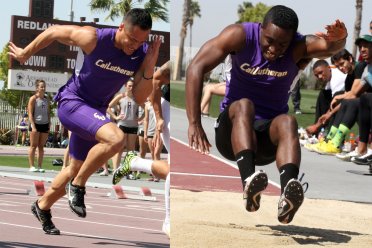 SAN DIEGO, Calif. – To close out spring break, the Cal Lutheran men's track and field team competed at the Point Loma Nazarene University (PLNU) Invitational with athletes from Division I, II and III as well as junior colleges and unattached competitors. CLU produced two event victories.
For the second consecutive meet Roy Diaz walked away as a Hammer champion. Today he threw 47.94m, .2 meters further than his closest competitor, for the win.
The CLU 4x400m Relay team of Conor Frinfrock, Matthew Hamlett, Dominick Allen and Tristan Baer won with a time of 3:21.89, edging Glendale CC by more than half a second.
Baer went on to finish 11th in the 200m as the top CLU finisher. Competing in a pair of events, Andrew Olson ran the 400m in 51.63 to place sixth after running the 200m in a time of 23.28.
Halaiano Aholelei sprinted to a second place finish in the 100m Dash, crossing the line in 10.96 while Justin Reeves was also a top-8 finisher, running an 11.23.
Nearly breaking the 2-minute mark in the 800m, Nick Privitelli clocked a time of 2:00.85 while teammate Dylan Perriseau finished in 2:02.42. Matt Garvin ran a 4:10.11 in the 1500m for the Kingsmen to place 12th.
Placing eighth in the 110m Hurdles, Joseph Forster ran a 16.54.
Matching his season best, Justin Puccinelli threw the Javelin 57.63m for fourth place. Bjorn McMillan and Scott Case were ninth and tenth, respectively, with marks of 45.71m and 45.20m. McMillan was also seventh in the Hammer with a toss of 39.65m.
In both the Shot Put and Discus William Zimmerle and Diaz finished back-to-back. The Shot Put saw Zimmerle throw 11.93m with Diaz recording an 11.76m. Zimmerle (39.40m) and Diaz (38.01m) were 11th and 12th in the Discus.
Jumping for the Kingsmen today were Puccinelli and Jordan Williams. For the first time this spring, Puccinelli competed in the High Jump, clearing 1.78m. Williams Long Jumped to seventh with a leap of 5.83m.
Cal Lutheran gets right back to Southern California Intercollegiate Athletic Conference (SCIAC) action with the third Quad Meet of the season at Occidental on Saturday, April 6 beginning at 11:00 a.m. CLU will compete with Chapman, Occidental and Pomona-Pitzer.
Results: PLNU Invitational
Facebook: https://www.facebook.com/clusports