Regals Run, Jump to Event Victories
CLU continues to impress at PLNU Invitational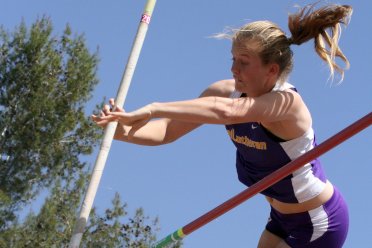 SAN DIEGO, Calif. – Competing against a tough field at the Point Loma Nazarene University (PLNU) Invitational the Cal Lutheran women's track and field team continued to impress with four event champions today.
Going 1-2 in the 1500m, Melissa Skiba (4:32.14) and Ashley Frese (4:38.55) paced the field. Skiba ran to a CLU record time by shaving eight seconds off her previous season best while Frese moved up to the fifth spot all-time.
Also taking the top two spots today were Lauren Rohach and Mary Case in the Long Jump. Rohach used a jump of 5.49m to earn the title with Case recording a leap of 5.10m for second.
Competing in multiple-events for the Regals, Amanda Hamilton won the Triple Jump by .47m by jumping 11.47m. She went on to place second in the 400m Hurdles in a time of 1:05.40.
The 4x100m Relay team of Kendall Sauter, Rohach, Audrey Dow and Amy Galipeau ran to a second place time of 48.67, which moves them into second place all-time at CLU.
Lowering her season best time in the 400m, Rohachclocked in at 59.11 as one of three runners under a minute in the race. She placed third. Galipeaufinished sixth in the 200m with a time of 26.63 two spots ahead of Lauren Kennedy (26.86).
Cal Lutheran sprinters occupied the 9-13 spots in the 100m dash with Hamiltonleading the charge in 12.76.
Daniella Sullivan and Amy Falahat were seventh and eighth in the 400m with times of 1:03.38 and 1:03.83, respectively. Katie Kirchner ran a 2:25.19 in the 800m to place 11th as the only CLU finisher in the event.
In the 100m Hurdles, Scout Gibson was the top CLU finisher in 17.19 for ninth just ahead of teammate Rachael Maurer (17.34).
Out in the field, Tori Dahl was fifth in the Discus with a mark of 33.72m and sixth in the Shot Put (10.03m), Javelin (24.84m) and Hammer (35.13m). Her Hammer mark broke into the CLU top-10 all-time.
Maisie Johnson cleared 1.47m in the High Jump to finish sixth while Case and Emily Ginter tied for 12th in the Pole Vault by clearing 3.05m to move into a tie for third all-time for the Regals.
Cal Lutheran gets right back to Southern California Intercollegiate Athletic Conference (SCIAC) action with the third Quad Meet of the season at Occidental on Saturday, April 6 beginning at 11:00 a.m. CLU will compete with Chapman, Occidental and Pomona-Pitzer.
Results: PLNU Invitational
Facebook: https://www.facebook.com/clusports