Kingsmen Compete Well at SCIAC No. 2
CLU faces La Verne, Redlands, Whittier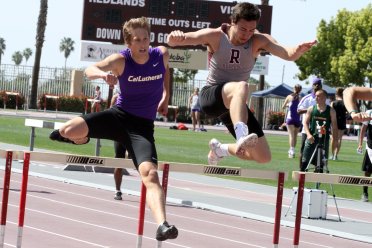 REDLANDS, Calif. – The Cal Lutheran men's track and field team traveled to Redlands today where the Kingsmen competed in the second Southern California Intercollegiate Athletic Conference (SCIAC) meet of the season at on a clear day inside Ted Runner Stadium.
Erik Fruth got the scoring started for CLU and went on to become a two-event winner by taking both the 110m Hurdles and 400m Hurdles. Fruth edged Nick Norton (UR) in the opening event on the track, running a 15.09. In the 400m, Fruth defeated Victor Rodriguez by four hundredths of a second, finishing in 56.64.
Another win today came on a late surge from Nick Privitelli that propelled the freshman to a 1500m victory, crossing the line in 4:12.38. He outkicked Thomas Marshall (4:13.84) from Redlands down the final stretch for the win.
In the field, Roy Diaz moved into fourth place all-time at CLU with a first place finish in the Hammer throw. His best mark of 50.71m came on his final attempt and he won the event by 2.82m.
Bjorn McMillan finished third in the Hammer with a throw of 41.24m and went on to place fourth in the Javelin with a mark of 49.86m behind Justin Puccinelli who used his fourth throw of the day, 51.08m, to lock up third place.
Shot Put saw a pair of Kingsmen place in the top three. James Laughlin used a 13.69m throw for second while Michael Bassett placed third with a mark of 13.14m. Diaz (12.17m) was seventh.
The 100m dash was as close as could be with the top three places separated by a hundredth of a second apiece. Halaiano Aholelei placed third in 10.79 seconds after finishing fourth in the Long Jump with a distance of 6.34m, .01m out of third.
Justin Reeves, Matthew Hamlett, Tristan Baer and Aholeleicombined to run the 4x100 m Relay in 42.21, edging the La Verne squad by three hundredths of a second, behind the winning UR team (41.83).
Baer went on to run the 400m in 49.25 for fourth while Hamlett was sixth in 50.01.
Matt Garvin ran to a third place finish in the 5K with a time of 16:39.88 and Dylan Perriseau clocked in at 2:01.51 in the 800m for fifth. The 3000m Steeplechase featured a pair of distance runners in David Avila (10:25.18) and Shawn Jackson (10:57.05).
Nearly breaking the one-minute mark, Edmond Garrett came in fourth in the 400m Hurdles with a clocking of 1:00.11. Joseph Forster was fifth in the 110m Hurdles in 16.04.
Both men's Discus and final team scores were unavailable at the time of release.
Cal Lutheran travels to San Diego to close out spring break at the Point Loma University Invitational Thursday to Saturday March 28-30.
Results: SCIAC No. 2 – results unavailable at time of release
Facebook: https://www.facebook.com/clusports