Regals Fall Twice in Oregon
CLU winless on spring break trip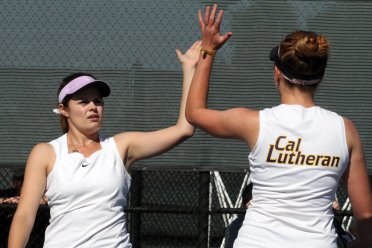 PORTLAND, Ore. – Using spring break to travel as a team, the Cal Lutheran women's tennis team fell twice today in Oregon, first to Lewis & Clark by an 8-1 margin before Linfield defeated the Regals 6-3.
Opening the day and the weekend, Emily Werman salvaged the only CLU win against the Pioneers in the morning. She used a third set tiebreaker to earn the 5-7, 6-0, 1-0 (10-7) win over Claudia Lew as the Regals No. 2 singles player.
On the second doubles court Carly Mouzes and Lindsay Murphy almost pulled out another point for Cal Lutheran, but ultimately fell 9-7 to Lew and Olivia Cornell.
Though two doubles teams and the singles order were rearranged by head coach Vanessa McPadden between matches today, Mouzes and Murphy remained teammates at No. 2 doubles against the Wildcats.
Against Linfield, the duo broke through with an 8-6 win over Lexi Thomas and Gretchen Jernstedt for the first point of the evening for CLU.
Trailing 2-1 following the first three matches, Murphy added to the score with a 6-0, 6-1 victory against Caroline Bringham at No. 1 singles. Mouzes played at No. 3 singles for the second time in 2013, but was defeated 6-2, 6-1.
Werman tallied her second singles win of the day with a 6-3, 6-1 win over Thomas at the No. 2 slot. Earlier in the match, Werman and Jacqueline Ramsay teamed up at No. 1 doubles, but fell by an 8-4 margin.
Cal Lutheran (4-13) returns to Southern California to resume league play on Friday, April 5 at 2:00 p.m. on the road against Claremont-Mudd-Scripps.
Results: LC 8, CLU 1
Results: LIN 6, CLU 3
Facebook: https://www.facebook.com/clusports