Jumpers Set School Marks at SCIAC No. 2
CLU faces La Verne, Redlands, Whittier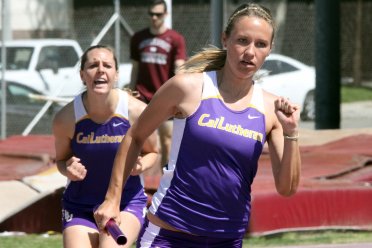 REDLANDS, Calif. – Two more school records fell at the second Southern California Intercollegiate Athletic Conference (SCIAC) women's track and field meet of the season as Cal Lutheran competed with La Verne, Redlands and Whittier at Ted Runner Stadium on a gorgeous Saturday afternoon.
CLU athletes were victorious in eight events with two Cal Lutheran all-time best marks in the sand pit. First Lauren Rohach set a personal best and a CLU record with an NCAA qualifying mark in the Long Jump with a leap of 5.72m on her final attempt of the meet, winning by .20m over teammate Kendall Sauter (5.52m). Later freshman phenom Amanda Hamilton increased the record she set last weekend with a Triple Jump of 11.56m, winning by .84m.
Rohach was also part of the winning 4x100 meter Relay Team, running the second leg after Sauterled off. Rohach handed the baton to Audrey Dow who passed it along to CLU anchor Amy Galipeau. The quartet finished in a time of 48.31, just off school record pace.
Hamilton went on to win the 400m Hurdles by close to three seconds in 1:07.30.
Joining Rohach and Sauter as part of a CLU top-three sweep in the Long Jump today was Mary Case whose jump went for 5.14m, recording identical marks on both her third and fourth jumps of the meet.
A close race in the 200m dash saw Rohach place second, edging Ashley Lively (UR) by a hundredth of a second in 25.57. Juniors Dow (26.72) and Galipeau (26.88) were step-for-step for sixth and seventh.
Also earning a pair of first place finishes today was junior distance specialist Melissa Skiba. Running stride-for-stride with foe Lenore Moreno from La Verne, Skiba outkicked the Leopards runner who has given her a run for her money all year, beginning in the fall during cross country season. Skiba used the last 800m of the 1500m to open a gap Moreno could not compete with to win in 4:47.04, taking the race by 2.74 seconds.
Later in the day during the 5K, the duo ran side by side, lapping other runners. It was again Skiba who made a move in the 11th lap of the 12-lap race to cross the line first in 17:29.91. Moreno was second (17:40.85) with Chelsea Feller and Taelor Young locking up the third and fourth spots, respectively, with runs of 19:03.90 and 19:12.04.
The scoring today got started with Lauren Kennedy, Scout Gibson and Rachel Maurer going 1-2-3 in the 100m Hurdles. Kennedy won by 1.99 seconds in 15.18. The freshman pair of Gibson (17.17) and Maurer (17.35) was right on her heels.
Rounding out the Regals winners today was Ashley Frese whose 800m run of 2:21.76 was more than three seconds ahead of the second place finisher after she broke away from the pack. Frese also finished third in the 1500m as one of just three runners under the five-minute mark in 4:52.38.
Galipeau went on to run the 100m in 12.61 for third. Sauter was sixth in the event in a time of 12.75 with Kennedy also finishing top-10 in eighth with a run of 13.13.
Battling illness, Natalie Bullock ran to a second place finish in the 3000m Steeplechase.
In the throws, Brianna Panapa took second in the Hammer (46.89m), tied for second in the Discus (35.88m) and sixth in the Javelin (29.37m). At the time of release shot put results were unavailable.
Maisie Johnson (1.47m) was fifth in the High Jump just ahead of teammate Kaylin Garcia (1.44m). For the Regals, Case and Sheyenne Machida tied for sixth in the Pole Vault, each clearing 6.90m.
The 400m dash saw a pair of freshmen in Amy Falahat and Danielle Sullivan placed sixth and eighth, respectively, in 1:03.49 and 1:03.74.
Katie Kirchner ran the 800m in 2:28.58 for fifth.
Final team scores were also unavailable at the time of release.
Cal Lutheran travels to San Diego to close out spring break at the Point Loma University Invitational Thursday to Saturday March 28-30.
Results: SCIAC No. 2 – results unavailable at time of release
Facebook: https://www.facebook.com/clusports