Kingsmen Stretch Win Streak to Ten
CLU defeats Sagehens 5-4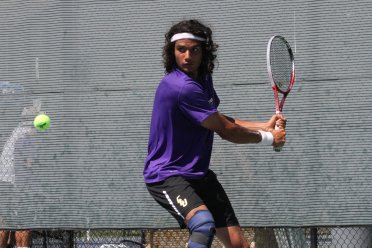 THOUSAND OAKS, Calif. -- The Cal Lutheran men's tennis team stretched its win-streak to 10 matches and improved to 4-0 in Southern California Intercollegiate Athletic Conference (SCIAC) with a narrow 5-4 victory over Pomona-Pitzer Saturday afternoon at the Poulson Tennis Center.
After the No. 1 doubles pairing of Nicholas Ballou and Ray Worley improved to 12-1 on the year with an 8-5 victory over Max Sabel and Frankie Allison, Pomona-Pitzer took a 2-1 lead after it scored victories in the No. 2 and 3 doubles matches.
Unfazed, the Kingsmen rallied with four singles wins to clinch the match. Ballou improved to a perfect 13-0 on the year when he defeated Chris Wiechert in the No. 1 singles match 6-2, 6-3.
Alex Nichols got Cal Lutheran its third point of the day when he cruised past Connor Hudson 6-3, 6-1.
In the No. 4 singles match, Thomas Millet won the first set 7-5 but then ran out of gas, falling in the next two sets 6-2, 6-3 against Frankie Allinson, evening the score at three apiece.
Devon Belcher put CLU ahead when he won his No. 5 singles match against Thomas Low 7-5, 6-1 and Worley clinched the victory with a three-set win over Max Sabel in the No. 2 singles, 3-6, 6-1, 6-3.
Cal Lutheran (14-1, 4-0 SCIAC) will be back in action Friday, April 5, when it hosts No. 4 in a much-anticipated showdown. The match is set to get underway at 2:00 p.m. at the Poulson Tennis Center.
Box Score: CLU 5 PP 4
Facebook: www.facebook.com/clusports