Regals Drop Pair to Non-Conference Foes
CLU falls to Rochester 5-4, No. 30 Case Western Reserve 9-0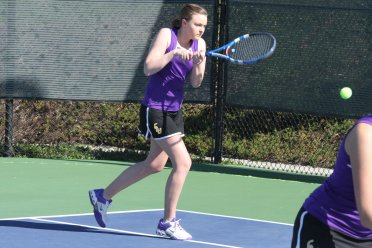 THOUSAND OAKS, Calif. – The Cal Lutheran women's tennis team dropped a pair of non-conference matches Friday afternoon with Rochester (N.Y.) slipping by CLU 5-4 and then falling to No. 30 Case Western Reserve 9-0 in the night cap.
In the first match of the day, Rochester took the first two doubles matches before the No. 3 pairing of Lauren Toohey and Sarah Baker rallied to defeat Rachel Suresky and Janize Zhao 8-4 and send CLU down one at 2-1 headed into singles play.
Lindsay Murphy earned her second victory at the Regals No. 1 singles player, defeating Suresky 6-1, 6-0 and pulling CLU even at 2-2.
Zhao and Hayley Brower defeated Becky Drake and Amber Rexford in the No. 5 and 6 singles matches to put Rochester back up by two at 4-2.
Emily Werman won a second-set tie-breaker to defeat Christine Ho 6-3, 7-6 (10-8) in the No. 3 singles match while Carly Mouzes toppled Molly Goodman 6-4, 6-3 in the No. 4 singles contest to pull CLU even with Rochester and set up the decisive point.
Baker started out strong in the No. 2 singles match, winning the first set 7-6 (7-2) but Cara Genbauffe battled back to win the next two sets, 6-3 and 6-2 to earn the game and match for Rochester.
Cal Lutheran fell victim to some controversial calls in its second match of the day against No. 30 Case Western Reserve (Ohio.). Both Murphy and Mouzes forced second-set tie-breakers in their singles matches with Murphy leading before the Case Western Reserve No. 1 singles player called a ball out. After a lengthy meeting with both coaches, the call stood and the momentum shifted to Sara Zargham's side as she closed out the tie-breaker 8-6.
Cal Lutheran (4-9) continues its busy schedule tomorrow when it plays its fourth match in three days. The Regals host UT-Dallas for another non-conference bout with the doubles matches getting underway at 11:00 a.m. at the Poulson Tennis Center.
Game 1 Results: Rochester 5 CLU 4
Game 2 Results: Case Western Reserve 9 CLU 0
Facebook: www.facebook.com/clusports