Regals Nearly Take Down Principia
CLU falls late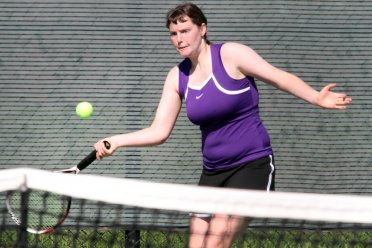 THOUSAND OAKS, Calif. – It came down to a pair of third set tie breakers for the Cal Lutheran women's tennis team this afternoon at the Poulson Tennis Center. Unfortunately, it was visiting Principia (Ill.) who walked away victorious as the Regals fell 5-4.
Doubles play saw Sarah Baker and Lauren Toohey battle to a 9-8 (7-2) victory on court number three for the first CLU point of the afternoon. The duo went on to earn singles wins for the Violet and Gold as well. Toohey cruised to a 6-0, 6-0 win at No. 6 and Baker earned a 6-4, 6-0 victory at No. 3.
Chipping away, Lindsay Murphy defeated Carlie Sanderude 6-4, 6-2 at No. 1 for the fourth and ultimately final point of the day.
Both Emily Werman and Carly Mouzes dropped their first sets and won the second, 6-3, before falling 7-6 in the final frame. Werman was out played 7-2 and Mouzes fell short 7-1 in their respective tie-breakers.
Cal Lutheran (4-7) has a quick turn-around with a pair of matches tomorrow, March 15. The first will pit the Regals against the University of Rochester at 11:00 a.m. before an afternoon showdown with Case Western Reserve at 3:00 p.m.
Results: PC 5, CLU 4
Facebook: https://www.facebook.com/clusports