Kingsmen Take Down No. 18 Bridgewater
CLU pounds out 19 hits and 14 runs in rout of Bridgewater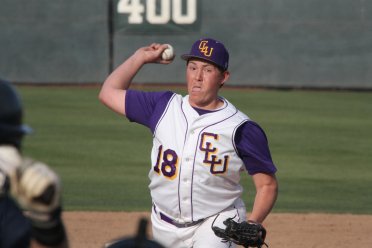 THOUSAND OAKS, Calif. – Fans attending Cal Lutheran baseball games the rest of the year may need to reconsider where they parked after Thursday's game. Nick Boggan hit a three-run homerun in the bottom of the first inning that cleared a three-story protective net behind the right-centerfield fence and then smashed the back windshield of a parked SUV. The homerun broke the game open as Cal Lutheran cruised to a 14-4 victory over No. 18 Bridgewater (Va.) at Ullman Stadium.
"Anytime you can start your weekend off with a win, that's a good thing," head coach Marty Slimak said. "We swung the bats well today and we had some guys who haven't pitched a lot of innings this season come in and throw well."
After Bridgewater scored in the top of the first, the Cal Lutheran offense went right to work, roping together five straight hits to start the game. Ronnie Burton led off with a single and was moved over on a bunt-single from Nicho DellaValle. Trevor Koons then doubled in Burton before Boggan launched his nation-leading eighth homerun of the season and put CLU up 4-1.
CLU broke the game open in the bottom of the third inning when it plated seven runs on six hits. Boggan and Nick DeLorenzo both reached base to start off the inning and then were brought home on two-run single by Mike Vinyard. C.J. Picerni and Garrett Smith followed with singles and were later driven in on a two-run error by the Bridgewater shortstop. DellaValle tacked on another run with an RBI-single that scored Burton and Koons capped the scoring in the third with an RBI double to left center. The seven runs in the bottom of the third marked the seventh time this season Cal Lutheran has scored five or more runs in a single inning.
The Kingsmen increased their lead to 12-4 thanks to an RBI-single from Picerni in the bottom of the fourth and Atherton Kniseley notched his first two RBIs of his collegiate career with a two-run single in the seventh inning, scoring Smith and Elon Goldman.
Matt Johnston pitched a perfect ninth inning to seal with tenth win of the season for the Kingsmen.
Boggan led CLU at the plate, going 4-for-5 with three RBIs. Smith had three hits for his fifth multi-hit game of the season. DellaValle had two hits while Koons and Vinyard had two RBIs.
Nick Fulk had three hits and Brandon Stein had a solo homerun to lead Bridgewater at the plate.
Mitchell Shields (2-0) earned his second win of the year after tossing two shut-out innings while Corey Messmore made his debut for CLU, not allowing a run in two innings of work.
Bridgewater starter Mark Smith (0-1) suffered the loss for the Eagles.
Cal Lutheran (10-5-1 overall) now turns its attention to Southern California Intercollegiate Athletic Conference (SCIAC) leading Occidental. The Kingsmen and Tigers kick off a crucial three-game series Friday, March 15, at Ullman Stadium. First pitch is set for 3:00 p.m.
Box Score: CLU 14 BC 4
Facebook: www.facebook.com/clusports