Kingsmen Sweep Past No. 22 Skidmore
CLU wins 9-0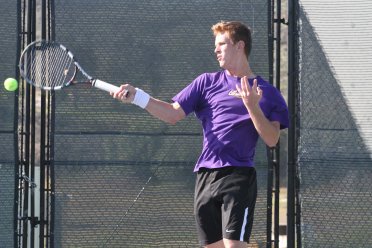 THOUSAND OAKS, Calif. -- Another ranked opponent, another resounding victory for the Cal Lutheran men's tennis team. Facing its sixth straight ranked opponent, the No. 6 Kingsmen dispatched No. 22 Skidmore (N.Y.) 9-0 Tuesday afternoon at the Poulson Tennis Center, earning their second clean sweep of the season.
"I was really happy with the results today," head coach Mike Gennette said. "We knew [Skidmore] were up-and-comers and I told the team that we have to come out and set the tone in doubles today and we did just that."
Having not won all three doubles matches since Feb. 22, the No. 1 pairing of Nicholas Ballou and Ray Worley got Cal Lutheran off to the right start, cruising past Oliver Loutsenko and Danny Knight 8-1. The No. 2 duo of Alex Nichols and Connor Treacy kept things going by fighting off a pesky pair of Jimmy Sherpa and Alec Hoblitzell 8-4. In the No. 3 doubles pairing, Thomas Millet and Marcelo Sousa outlasted Kit Green-Sanderson and Nick Tong 8-5 to give CLU a 3-0 advantage heading into the singles portion of the match.
Ballou trailed 2-1 in the first set before overcoming a series of unforced errors to defeat nationally rank Loutsenko 6-3, 7-6 (3). Worley, CLU's No. 2 singles player, breezed past Sherpa in straight sets, 6-1, 6-1.
Nichols won his fourth consecutive match, improving his season record to 7-2 after defeating Miles Ransom 6-1, 6-3 in the No. 3 singles pairing.
Treacy made quick work of Knight, winning 6-1, 6-0 in a match that took less than 45 minutes.
After dropping three straight matches, Millet has now won three in a row after playing one of his strongest matches of the year en route to toppling Gabe Steerman 6-1, 6-1.
Devon Belcher rebounded from a loss last week to Trinity and gave CLU the sweep by winning 7-5, 2-6, 10-7 over Green-Sanderson.
"Facing a team that's ranked, really anything can happen so beating these guys 9-0 shows the separation between us and the teams ranked in the 20s so I'm really pleased with our guys today," coach Gennette said.
Cal Lutheran (8-1 overall) resumes Southern California Intercollegiate Athletic Conference (SCIAC) play Saturday, March 16, when it travels to Redlands to take on the Bulldogs at 11:00 a.m.
Results: CLU 9 SU 0
Facebook: www.facebook.com/clusports