Regals Set School Mark at Embry-Riddle
CLU solid on day one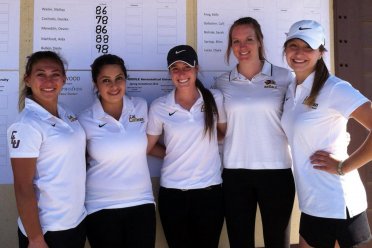 PRESCOTT, Ariz. – Today at the Embry-Riddle Tournament played at Antelope Hills Golf Course the Cal Lutheran women's golf team set a school record 338 behind a solid first day of the two-day event.
Danika Cochiolo led the pack with a 78 as the only golfer under 80. Both McKay Weiler and Devon Meredith shot an 86 and Aida Mahfood used 88 strokes to complete the course and give CLU the lowest total since the inception of the program in the 2011-12 academic year.
Rounding out the Regals squad today was Emily Bullen who shot a 98.
Official tournament information was unavailable at the time of release.
Cal Lutheran is set to tee off at 7:00 a.m. tomorrow to conclude the tournament.
Results: Unavailable at time of release
Facebook: https://www.facebook.com/clusports