Regals Down Division II CSU San Bernardino at Claremont Convergence
CLU closes out Claremont Convergence with split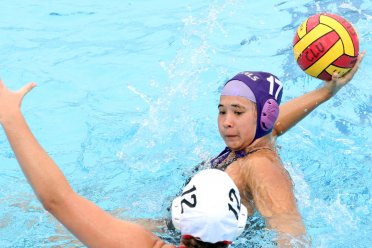 CLAREMONT, Calif. – At two different pools today for the Claremont Convergence, the Cal Lutheran women's water polo team earned a split, defeating Division II CSU San Bernardino 13-8 at Las Flores Park in La Verne before heading east to Claremont-Mudd-Scripps where the Regals fell, 15-4, to NAIA Cal Baptist.
Jordan Card had a stellar day in the pool with nine total goals and senior Jane Galluzzi was a defensive menace with five steals in the split.
CLU jumped out to a 4-1 lead in the first quarter and never looked back as they took a 4-3 lead into the intermission. The Regals outscored CSUSB 4-3 in the third and 5-2 in the final frame.
Card, the sophomore center, scored a season-high six goals against the Coyotes. Galluzzi added a hat-trick of her own with three goals in the opener while Morgan McCardell, Shannon Streeter, Kaylee Kastrup and Adrienne Ingalla each added one as well.
While manning the cage for the entire contest Kylee Tomasetti saved 10 shots and came away with four steals, sharing the team-lead with Ingalla. Kastrup and McCardell had three steals apiece and Galluzzi added a pair.
In the second game Cal Lutheran faced a tough Lancers team. The Regals were in a hole early, trailing 3-1 after the first quarter and 6-3 at the break. CLU would tack on just one more score while CBU added nine second half goals.
Again, Card paced the offense with three goals for another hat-trick. Ingalla was responsible for the final score of the contest.
Tomasetti guarded the cage for the first half before Gina Merry took over in the second with each turning away six shots from Cal Baptist.
Galluzzi added a trio of steals in game two.
Cal Lutheran (4-11) will play a pair of non-conference games on Thursday, March 14 against St. Francis (NY) at 1:00 p.m. and George Washington (D.C.) at 5:00 p.m. in the Samuelson Aquatics Center.
Box Score: CLU 13, CSUSB 8 – Box Score not available at time of release
Box Score: CBU 15, CLU 4 – Box Score not available at time of release
Facebook: https://www.facebook.com/clusports