Kenyon Controls Regals on Courts
CLU drops non-conference match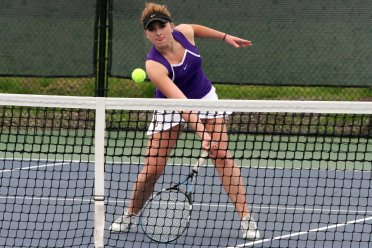 THOUSAND OAKS, Calif. – The competition for the Cal Lutheran women's tennis team continues to be tough as the Regals dropped a 9-0 decision to Kenyon (Ohio) at the Poulson Tennis Center this afternoon beneath sunny blue skies.
Kenyon took an early 3-0 lead after doubles en route to the sweep. The CLU duo of Emily Werman and Sarah Baker made it close on the number one court before falling 8-5 to Amy Schlessman and Taylor Diffley.
At No. 2 doubles Carly Mouzes and Lindsay Murphy teamed up, but fell by an 8-4 margin to Madison Hoffman and Amanda Polster. In the three spot Jacqueline Ramsay and Lauren Toohey dropped an 8-3 decision to Abigail Younger and Samantha Murphy.
Kenyon went on to sweep singles play.
Mouzes and Lydia Winkler battled for more than two hours, but it was the visiting Winkler to walk away with a victory, outplaying the CLU senior 7-5, 7-6 (7-5) and stripping the Regals of a chance at a point for the day.
Baker and Toohey also each gave CLU a chance, falling 6-4, 6-3 and 6-4, 6-2, respectively, at No. 3 and No. 6.
Kenyon earned a 9-0 west coast trip opening victory over Hope International before falling to La Verne, 6-3 earlier this week.
Cal Lutheran (4-6) looks to bounce back when they continue non-conference play at home on Thursday, March 14 against Principia (Ill.) at the Poulson Tennis Center beginning at 3:00 p.m.
Results: KEN 9, CLU 0
Facebook: https://www.facebook.com/clusports