No. 6 Kingsmen Rally Past No. 8 Trinity
CLU defeats No. 8 Trinity 6-3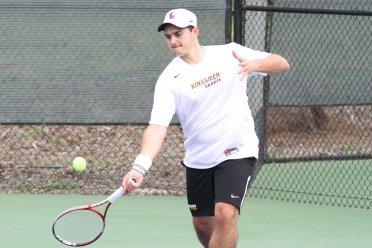 THOUSAND OAKS, Calif. – Facing each other for the second time in three weeks, No. 6 Cal Lutheran defeated No. 8 Trinity (Tex.) 6-3 Friday evening at the Poulson Tennis Center. The Kingsmen had defeated the Tigers by the same score in the previous meeting on Feb. 24, during the Intercollegiate Tennis Association National Indoor Tournament.
Whereas Cal Lutheran took two of the three doubles matches in the first meeting, Trinity flipped the script Friday when it captured the No. 2 and No. 3 doubles matches. The No. 2 pairing of Nicolas Moreno and Charlie Curtis defeated Alex Nichols and Connor Treacy 8-4 while the No. 3 grouping of Greg Haugen and Connor topped Thomas Millet and Marcelo Sousa 8-2.
The Kingsmen salvaged the double portion of the duel when the No. 1 pairing of Nicholas Ballou and Ray Worley defeated Erick DelaFuente and Jordan Mayer 8-3. The CLU duo avenged their only loss of the season since DelaFuente and Mayer defeated them 8-6 during the first meeting.
Trailing 2-1 and with the match hanging in the balance, Cal Lutheran won five of six singles matches to capture its fourth win over a ranked opponent this season.
Ballou made a strong case to be the No. 1 singles player in Division III as he defeated current No. 1 Aaron Skinner for the second consecutive time. The senior dropped the first set 6-4 before battling back to take the second 6-3. The two exchanged points until Ballou won the super set tie-breaker 7-6 after hitting a perfect drop-shot that Skinner was unable to return.
Worley, the No. 2 singles player for CLU, improved to 6-2 on the year after defeated Haugen 7-5, 6-3.
Nichols soundly defeated DelaFuente 6-1, 6-3 in the No. 3 singles match.
Treacy won a three-set thriller against Moreno in the No. 4 singles match, 6-3, 3-6, and 6-2.
Millett clinched the victory for the Kingsmen during the No. 5 singles match, defeating Mayer 7-6, 6-3.
Cal Lutheran (7-1) resumes action Tuesday, March 12, when they host Skidmore in a non-conference match at the Poulson Tennis Center. The duel is set to start at 2:00 p.m.
Results: CLU 6 TU 3
Facebook: www.facebook.com/clusports