Regals Drop a Pair to Division I Foes
CLU falls to Indiana 16-5 and UC San Diego 14-5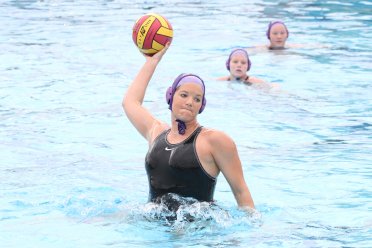 CLAREMONT, Calif. – The Cal Lutheran women's water polo team dropped a pair of games to Division I foes Friday, falling to No. 10 Indiana 16-5 and then 14-5 to UC San Diego during the first day of the Convergence Tournament hosted by Claremont-Mudd-Scripps.
Game one saw No. 10 Indiana use a first quarter surge to cruise past CLU. The Hoosiers netted six goals in the first quarter including four from Jakie Kholi.
Cal Lutheran was led offensively by senior Morgan McCardell, who scored two goals. Sophomores Kehau Ai and Jordan Card each scored for the Regals while senior Jane Galuzzi had a goal and two steals. Sophomore Kaylee Kastrup also dished out assists.
Defensively, sophomore Adrienne Ingalla and Galuzzi each nabbed two steals to lead CLU.
Senior Kylee Tomasetti started in goal for CLU, notching four saves and one steal during the first half. Freshman Gina Merry came on in the second half and pulled in six saves over the final 16 minutes.
In game two, Cal Lutheran hung tough with Division I UC San Diego, trailing just 3-2 after the first quarter but the Tritons would get four goals in the next three quarters to pull away for the win.
Kastrup was the top scorer in game two for the Regals, finding the back of the net twice. Card, Galuzzi and Ingalla each pitched in with a goal of their own.
In addition to being the top scorer for CLU, Kastrup also led the Regals defensively against the Tritons, coming away with five steals. Ingalla was equally impressive, recording five steals as well while Galuzzi was right behind with four.
Tomasetti played the whole game in front of the net for CLU against UC San Diego. The Fresno, Calif. blocked 10 Triton shots while also coming up with two steals and even had an assist.
Cal Lutheran (3-10) resumes action tomorrow, March 9, when they take on Cal State Bakersfield at 10:20 a.m. and then conclude the Convergence Tournament with a game against Cal Baptist starting at 3:40 p.m.
Facebook: www.facebook.com/clusports