Kingsmen Edged by Bulldogs
CLU falls 7-3 to Redlands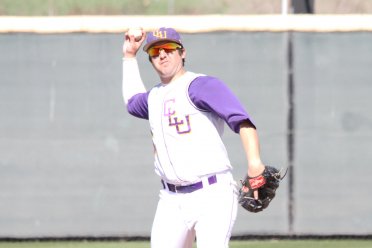 REDLANDS, Calif. – Jake Petersen (1-1) pitched eight innings while striking out six but it was not enough as Redlands was able to keep the CLU bats at bay, winning a 7-3 Southern California Intercollegiate Athletic Conference (SCIAC) contest Friday afternoon at The Yard. Cal Lutheran came in averaging seven runs per game but Redlands pitcher Eliot Smith (3-0) kept the Kingsmen off balance at the plate and struck out 10 batters in eight innings of work.
Redlands jumped in front during the bottom of the first when it pieced together four hits including a two-run single by Alex Scheiwe that put the Bulldogs up 3-0.
Smith had a no-hitter through five innings until Mike Vinyard led off the top of the sixth with a single. The senior then stole second and advanced to third on a Ronnie Burton single before scoring the first run for Cal Lutheran thanks to a passed ball by the Redlands catcher. Spencer DuBois scored two pitches later, this time coming home on a wild pitch and making the score 5-2.
Unfortunately, Cal Lutheran was unable to close the gap any further as Redlands scored two unearned runs in the bottom of the sixth to put the game out of reach.
Nick Boggan led CLU offensively going 2-for-3 while also extending his hit-streak to 13 games. Davey Casciola had the lone RBI for the Kingsmen. Trevor Koons and Garrett Smith had the other hits for CLU in game one.
Scheiwe and Jason Henning were both 3-for-4 with two RBIs to pace the Bulldogs offensively.
Cal Lutheran (7-5-1, 4-3 SCIAC) and Redlands will resume their three-game series tomorrow, March 8, when the Kingsmen host the Bulldogs for a doubleheader at Ullman Field. First-pitch is set for 11:00 a.m. while the second game will start 30 minutes after game one is completed.
Box Score: UR 7 CLU 3
Facebook: www.facebook.com/clusports