Regals Upended by No. 18 Sewanee
Sewanee defeats CLU 9-0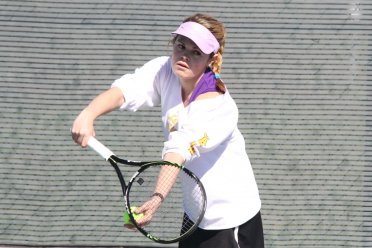 THOUSAND OAKS, Calif. – Facing its second straight ranked opponent, the Cal Lutheran women's tennis team dropped a 9-0 non-conference match to No. 18 Sewanee (Tenn.) Friday afternoon at the Poulson Tennis Center.
The No. 1 doubles pairing of Sarah Baker and Emily Werman played the closest match of the day, falling 8-4 to the sister duo of Jenny and Lindsey Liles.
Carly Mouzes and Lindsay Murphy were defeated 8-0 by Bronte Goodhue and Amber Garland in the No. 2 doubles match while the Becky Drake and Jacqueline Ramsay fell by the same score in the No. 3 pairing.
The Tigers were equally as dominant in the singles matches, sweeping each set for the third time this season.
Murphy gave the Regals their best chance at salvaging a point in the No. 2 singles match, taking J. Liles to 6-4 in the first set. Unfortunately for CLU, Murphy was unable to close the gap set as J. Liles took the match with a 6-1 second set win.
Cal Lutheran (4-5) won't have to wait long to get back on the court, hosting Kenyon (Ohio) tomorrow, March 9, at the Poulson Tennis Center. The first matches are set to get underway at 11:00 a.m.
Results: Sewanee 9 CLU 0
Facebook: www.facebook.com/clusports