Senior Trio Earn All-SCIAC Accolades
Careers conclude with league recognition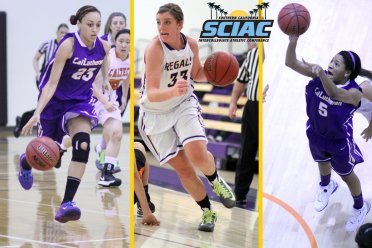 PASADENA, Calif. – Announced last week by the Southern California Intercollegiate Athletic Conference, three Cal Lutheran seniors landed on the women's basketball All-SCIAC Teams to round out their respective careers.
Starla Wright and Erica Whitley were named to the First Team with Channing Fleischmann earning Second Team recognition. Both Wright and Whitley started in 15 of the 16 SCIAC games in which she played during the 2012-13 season while Fleischmann was on the floor for tip-off in all 16 contests.
Leading the Regals at both ends of the court was Wright who becomes a three-time First Team All-SCIAC recipient, garnering the honor in 2010 and 2011. As a senior she averaged a double-double with 16.4 points and 10.0 rebounds per game in league play. She finished with a 52.5 field goal percentage. At the line she added 72 free-throws. In six games Wright tallied 20 or more points with a season-high coming on Jan. 12 against La Verne when she netted 34. Of her 160 total rebounds, 81 came on the offensive end of the court for the Regals. Eight times she tallied double-figure rebounds with her season-high 17 coming at Whittier on Jan. 31. Additionally, Wright tallied a team-high 14 blocks during conference contests and handed out 14 assists with 13 steals.
Wright was a three-time SCIAC Athlete of the Week this winter and used her senior year to surpass the 1,000-point plateau, scoring 1,043 career points with 581 career rebounds (297 offensive) to finished tenth and seventh, respectively, all-time in CLU history. She is now also ninth in field goals made with 389.
Whitley earns her second consecutive First Team nod after being a Second Team selection in 2010. This year she nearly averaged 10 ppg with 9.6. She shot 39.5 percent from the floor, connecting for 14 three-pointers. Six times she reached double-figures and turned in a season-high 29-point performance on the final night of the regular season, and ultimately the last game of her collegiate career, against La Verne. The senior ranked second on the team to Wright in rebounds as well, with 108 total, for an average of 6.8 per game. She grabbed double figures four times with a season-high 14 at Chapman on December 15. Defensively, Whitley was a nuisance and was one of the toughest to play against throughout the season. She blocked 11 shots and came away with a team-high 48 steals, forcing many more. At Whittier on Jan. 10 she finished with a season-high eight steals for the Regals. Whitley also handed out 44 assists, second on the squad to Alex Nelson (45), with seven against La Verne on Jan. 12.
Overall in her career, Whitley ranks second in school history with 258 steals, sixth with 104 made three-point field goals and ninth with 544 rebounds.
Rounding out the selections was Fleischmann who became a two-time Second Team member by averaging 8.2 ppg with a three-point field goal percentage of 35.4 in SCIAC action. She connected for 23 from long range during her final campaign. In six games she surpassed the 10-point plateau, recording a season-high 17 points twice. The first time was on Dec. 6 against Pomona-Pitzer with the second occurring at Caltech on Jan. Fleischmann was third on the team with 89 total boards for 5.6 rpg. In back-to-back games against La Verne and Claremont-Mudd-Scripps she grabbed 10 rebounds for a season-high. She also added 17 steals, nine assists and five blocks to her stat line this winter.
Fleischmann finishes her career five rebounds shy of 500 with 495 to place tenth in school history, while also ranking seventh in both three-point field goals made (97) and career blocks (44).
Makenzie Brandon, from Occidental, repeated as the 2012-13 women's basketball Player of the Year while Sandra Gao of Chapman was tabbed the Newcomer of the Year and Anne Yoshimura from Chapman took home the Ed Baldwin Memorial Award.
Cal Lutheran (23-5, 13-3 SCIAC) won the SCIAC regular season in 2012-13 and went on to earn the automatic bid to the NCAA Tournament by locking up their second consecutive SCIAC Post Season Tournament title.
Release: 2013 All-SCIAC Team
Facebook: https://www.facebook.com/clusports