Seniors Take One More Swing at Title
CLU off to hot start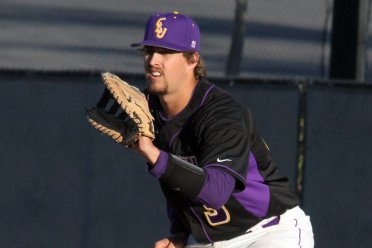 THOUSAND OAKS, Calif. – Nick Boggan can feel the sense of urgency even during practices.
If the Cal Lutheran baseball team is slacking off, the seniors will provide a jolt to the system with their words or through their actions.
They know time is running out on their chances of winning a Southern California Intercollegiate Athletic Conference title.
"I have been with these guys for all four years and been through the ups and the downs and the seasons and the practices," Boggan said. "It's special having that bond, and we don't want to go out on a sour note like we have the past couple of seasons."
The Kingsmen (7-4-1, 4-2) are tied for fourth in the SCIAC standings entering this weekend's three-game series against Redlands, which begins at 2:30 p.m. Friday at Redlands, followed by a Saturday doubleheader at CLU starting at 11 a.m.
Although CLU features a veteran lineup with 18 returning players, the Kingsmen are nurturing a relatively young pitching staff.
Boggan and his fellow seniors are trying to help guide the freshmen through the labors of a college season.
"There is a lot of leadership on this team defensively and hitting-wise, and we are just teaching the young guys the ropes of college baseball," Boggan said. "The game is played differently at this level from high school, and we are taking them all under our wings in a sense and showing them what needs to be done."
Boggan suffered a knee injury that limited him last season. But after an offseason to heal, he is back at full strength.
The 6-foot-2, 217-pound first baseman is batting .412 with six home runs, five doubles and 17 RBIs.
Boggan is one of six Cal Lutheran players batting .300 or better, including newcomer Jake Petersen.
The junior left-handed pitcher played two seasons at Cal State Northridge before transferring to CLU this season. Petersen is batting a team-leading .459 with five doubles and eight RBIs in nine games started.
"It's really been a total team effort. There is not just one guy really pulling his weight. Everyone is contributing right now," Boggan said. "We just need to do a better job on defense as a whole and in a few more spots pitching consistently."
Aside from his statistical contributions, Boggan has embraced more of a leadership role for CLU this season.
"I wouldn't say I am one of the more outspoken leaders, but if the freshmen have any questions or problems, they can come to me," he said. "I have been trying to provide more of that than I have done before."
Because Boggan knows Cal Lutheran may need a young player to come through in a critical situation down the line.
"This is the last time to prove something, and I really want to win conference," Boggan said. "That is one of my major goals, and I think we have a good chance."