CLU, McGinn Capture Master's Invite Title
CLU wins by four shots, McGinn captures individual title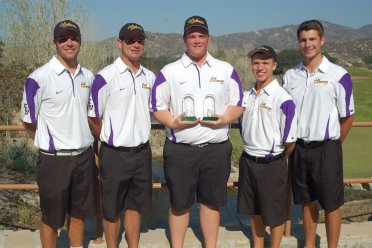 SANTA CLARITA, Calif. – The Cal Lutheran men's golf team captured its first title of the season with a combined final round score of 307 (+19) at the Master's College Spring Invitational at Robinson Ranch Golf Club Tuesday afternoon. The Kingsmen put an exclamation point on the day when Mikey McGinn sank an 8-foot birdie putt on the first hole in a four-person, sudden-death playoff to capture the individual title.
McGinn along with Adam Loran of Cal State San Marcos, Thane Ringler of the Master's, and Jacob Good of St. Thomas (Fla.) all finished the 72-holes of regulation play at two-over par, 218. The foursome replayed the par-five 18th hole with McGinn electing to hit an iron off the tee after bogeying the hole during regulation. The gamble paid off as the junior laid up and hit his third shot to within eight feet. Good and Ringler both found the water on their second shots and Loran hit his third shot to within ten feet. After Loran missed his birdie putt, McGinn sunk the eight-footer to claim the second individual title of his career.
Cal Lutheran had four other players finish in the top 20 of the leaderboard. Parker Colvin was the next best finisher for CLU, carding a final round score of 76 (+4) to push his three-round score to a six-over 222, good for ninth place. Colvin's teammate, Chad Kimmelshue, was right behind him, finishing in a tie for 10th after recording a final-round 78 (+6) and completing the tournament with a seven-over par 223 score.
Barrett McGinnis rounded out the top scorers for CLU, tying for 14th and shooting an 81 during the final day and giving him a three-round score of 228 (+12).
Bobby Griffin just missed out on a top-20 finish, tying for 21st after a final round 78 for a three-day total of 15-over, 231.
Cal Lutheran's three-day total of 888 was four shots better than second-place Cal State San Marcos. The Master's College finished with a total score of 899 to finish third.
The win for Cal Lutheran Tuesday was its first in nearly a year when the Kingsmen captured the top spot at the SCIAC No. 4 on March 26, 2012.
The Kingsmen will be back in action Tuesday, March 11, when they travel to Blanco, Tex. to compete in the Texas Lutheran Invitational.
Results: 1st (Final Round)
Facebook: www.facebook.com