CLU Currently First at Master's Invite
Two rounds down, one to go for Kingsmen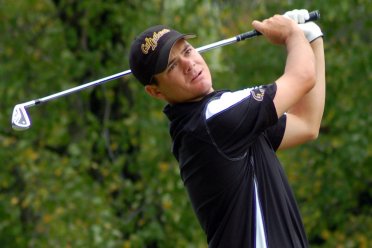 SANTA CLARITA, Calif. – A solid performance across the board today by the Cal Lutheran men's golf team landed the Kingsmen in the top spot with a 581, nine strokes ahead of host The Master's College on day one of The Master's College Spring Invitational at Robinson Ranch Golf Club.
After the first round CLU was one stroke back of The Master's with a 290 (+2). They used an equally consistent performance of 291 (+3) in round two to overtake the top spot going into the final round tomorrow. The Kingsmen are the only team to be less than 10 strokes over par at the event.
Mikey McGinn shot a one-over 73 this morning before following up with a 70 (-2) this afternoon to earn a share of the lead with two other players, Chris Lungo from Chapman and Jacob Good from St. Thomas (Fla.), by using 143 combined swings.
The middle three CLU competitors are all within a stroke of one another at 145, 146 and 147 through 36 holes.
In second for Cal Lutheran, Chad Kimmelshue is tied for fourth, just two strokes off McGinn, with a combined 145. He was even at 72 during his first 18 holes and came back with a 73 in the later round.
Just one more shot back of Kimmelshue, Parker Colvin sits in a three-way tie for seventh. In the morning he shot a team low 71 and came back with a 75 to have 146 to this point.
Tied for 10th is Barret McGinnis who shaved a stroke off his morning round of 74 to go a one-over par 73 on holes 19-36.
Rounding out the CLU players is Bobby Griffin with a 153 after shooting a 76 and 77 today. He is in 25th place.
Thane Ringler from The Master's shot a day low 69 in the morning.
Following CLU (581) to round out the top three teams are TMC (590) and Chapman (594). A tie for fourth is shared by CSU San Marcos and Point Loma Nazarene with 596 apiece. Pomona-Pitzer (633) is the only other SCIAC school competing and currently sits in 11th.
Cal Lutheran looks to lock up the TMC Spring Invitational title tomorrow with tee times scheduled at 7:30 a.m.
Results: 1st – After Round Two
Results: 2nd – After Round One
Facebook: https://www.facebook.com/clusports