Kingsmen Dominant against Eagles
No. 6 CLU defeats No. 23 Mary Washington 8-1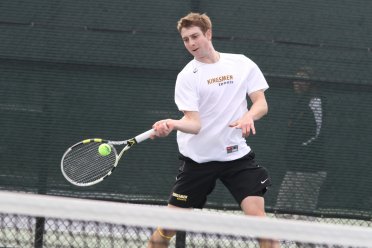 THOUSAND OAKS, Calif. – Days after jumping five spots up to No. 6 in the Intercollegiate Tennis Association Division III Top 25 poll, the Cal Lutheran men's tennis team affirmed its ranking with an 8-1 drubbing of No. 23 Mary Washington (Va.) Monday afternoon at the Poulson Tennis Center. The win over the Eagles marked the third time in the last four matches that CLU has defeated a ranked opponent.
The No. 1 doubles pairing of Nicholas Ballou and Ray Worley avenged their lone defeat of the season last week as they overpowered Evan Charles and Donato Rizzolo 8-5 for the first win of the day.
Alex Nichols and Connor Treacy improved their No. 2 doubles record to 5-0 on the year after outlasting Tyler Carey and Kaleb Nguyen 8-4.
Mary Washington earned its lone victory of the day when Alex Blakhin and Sam Wichlin defeated Thomas Millet and Marcelo Sousa 8-6 in the No. 3 doubles match.
Leading 2-1 at the break, Cal Lutheran swept all six singles matches for the third time in seven dual matches this season. A week after defeating the Division III No. 1 player, Ballou looked sharp again in a 6-2, 6-1 win over Carey in the No. 1 singles match.
Worley earned his first clean sweep of the season in the No. 2 singles match, not conceding a game as he defeated Charles 6-0, 6-0.
In the No. 3 singles contest, Nichols and Blakhin slugged it out for two hours before Nichols won a third-set super tie-breaker to earn the 6-2, 4-6, 10-7 victory.
Treacy improved to 5-1 on the season as he defeated Wichlin in straight sets, 6-3 and 6-3 in the No. 4 match.
Millet earned his first victory of the season as the No. 5, winning 6-2, 6-3 against David Lunding-Johansson while transfer Devon Belcher earned his first singles win at CLU, defeating Will Apperson 6-2, 6-2.
Cal Lutheran (6-1) will be back in action Friday, March 8, when they face Trinity (Tex.) at 3:00 p.m. The two teams previously faced each other at the ITA National Indoor Championships with Kingsmen upsetting the then-No. 9 ranked Tigers 6-3.
Results: CLU 8 UWM 1
Facebook: www.facebook.com