Regals Strong in SCIAC Opener
CLU defeats CIT and Redlands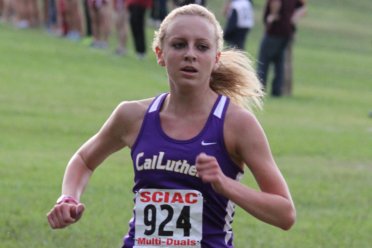 PASADENA, Calif. – The Cal Lutheran women's track and field team had a strong showing during the SCIAC No. 1 Quad Meet Saturday as it won six individual titles and had nine top-three finishers. In the head-to-head team competition, the Regals defeated Caltech 102-41 and Redlands 106.5-51.5 before barely falling to Claremont-Mudd-Scripps, 90-72.
Brianna Panapa got Cal Lutheran off to a solid start when she captured the hammer throw title. Her throw of 44.16 meters was five more meters than the second place finisher and was good for sixth-place all-time at CLU. Panapa also scored in the discus and shot put where finished second in both.
Her teammate, Tori Dahl, placed third in the discus with a throw of 29.40 meters while also finishing fourth in the shot put.
During the jumps portion of the meet, Cal Lutheran recorded points when Kendall Sauter placed second in the long jump while Lauren Rohach finished right behind in her fourth and Mary Case placed sixth.
Amanda Hamilton set two new CLU records in the meet. Her triple jump of 11.21 meters was .07m further than the previous mark set in 2011.
After completing their jumping events, Hamilton, Rohach, and Sauter continued their solid afternoons by pulling double-duty during the sprints. Hamilton won the 400 meter hurdles race in a time of 1:04.24 while Rohach took first in the 200 meter dash with a time of 26.7. Sauter came in third in the 100 meter dash, clocking a 13.09.
Sauter's teammate, Amy Galipeau was the top 100 meter runner for CLU as she broke 13 seconds with a time of 12.96 and took second place.
Lauren Kennedy placed fourth in the 100 meter hurdles in a time of 16.18 while also placing sixth in the 100 meter dash.
Ashley Frese captured the 800 meter race title in a time of 2:20.45. Frese's winning time was the eighth fastest 800 meter time in school history.
The Regals 4x 100 meter relay team had an outstanding day after it clocked a winning time of 49.12 seconds. The time was also good for fifth best in Cal Lutheran history.
The winning ways continued as the meet transitioned to the distance events. Melissa Skiba dominated the 5000 meter race, winning by more than ten seconds with a time of 17:58.83. Skiba's winning time was just seven seconds off breaking the school record set by Laurie Hagopian in 1979. The junior transfer also won her only other event, the 1500 meter race, in a time of 4:40.68.
Natalie Bullock finished fourth in the 3000 meter steeplechase after crossing the finish-line in a time of 12:41.81.
Chelsea Feller rounded out the top finishers for CLU when she placed third in the 5000 meters with a time of 18:53.35.
Cal Lutheran will be back on the track Friday, March 8, when it competes in the Ben Brown Invitational hosted by Cal State Fullerton. The two-day meet is set to get underway at 8:00 a.m. both days.
Results: SCIAC Quad Meet No. 1 CLU/CIT/CMS/UR
Facebook: www.facebook.com/clusports