Regals Challenge Ranked Redlands
CLU falls to No. 20 Bulldogs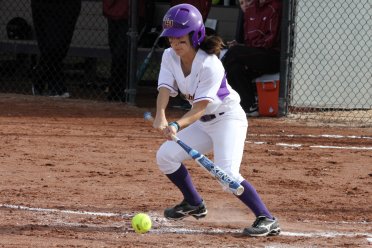 REDLANDS, Calif. – For the second consecutive weekend the Cal Lutheran softball team met a ranked opponent on the diamond. Today at No. 20 Redlands, the Regals gave the Bulldogs a run for their money in game two, but fell twice, 6-1 and 8-5 in a Southern California Intercollegiate Athletic Conference (SCIAC) doubleheader at the "Field of Dreams."
In game one, Redlands jumped out to an early 4-0 lead in the bottom of the first and the Regals could not catch up. CLU connected for three hits, with Kayla Sakamoto collecting two and Shonna Christianson recording the third, while UR had seven.
CLU put up a crooked number in the sixth after Christianson led off with a single. Ryanna Morua layed down a sacrifice bunt to advance the runner and Brittany Labbe drew a walk. An error allowed Sakamoto to reach and the Regals to load the bases. Christianson crossed the plate with the lone Cal Lutheran run of the game on a wild pitch later in the frame.
Katelyn Downing (1-3) was tagged with the loss after throwing a complete game and striking out three. Kayla Uphold also tossed a complete game, earning the victory for UR.
Game two saw the Regals take a 3-0 lead, scoring once in each of the first three innings. Back-to-back three-run innings in the fifth and sixth for the Bulldogs stole away the victory from CLU, despite Cal Lutheran tacking on a pair in the top of the seventh.
On paper the teams lined up in game two. Each squad collected 13 hits, and despite four UR errors to one by the CLU defense, it was the Bulldogs who plated more runs.
The game started with a trio of hits from Sakamoto, Blake Lewis and Labbe, whose single to centerfield drove in Sakamoto.
For the second inning in a row the leadoff batter reached base for the Regals to set the stage. Downing walked before Liz Mertel and Christianson connected for a single and RBI double, respectively, to increase the CLU total.
In the third Morua led off the inning with a double and she came in to score when Downing swapped places on an RBI double of her own.
Redlands responded with a pair of runs in the bottom of the third on four hits. UR then tied and took the lead in the fifth. The Regals made a late push with a pair in the seventh on a Downing double, a Mertel single and a UR error, allowing both to score.
Eight different players recorded a hit and four Regals had two hits apiece in the second game. Downing went 2-for-2 with a pair of runs and an RBI while Christianson, Mertel and Sakamoto each also had a multi-hit game.
Christianson (0-5) went 6.0 innings, striking out one while the Bulldogs plated five runs, four earned, on 11 hits. Sakamoto came into the circle to close out the game. Kaitlyn Hooper started for Redlands but Nikoli Sharp took over on the rubber in the fifth to secure the win.
Cal Lutheran (1-11, 1-9 SCIAC) returns to the diamond on Monday, March 4 when the Regals host non-conference Berry for an afternoon doubleheader set to begin at 1:00 p.m. on Hutton Field.
Game 1: UR 6, CLU 1
Game 2: UR 8, CLU 5
Facebook: https://www.facebook.com/clusports