Quintana Named All-SCIAC
CLU freshman earned accolades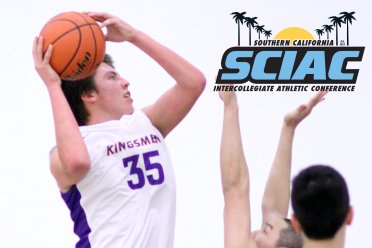 PASADENA, Calif. – Announced today by the Southern California Intercollegiate Athletic Conference, Cal Lutheran freshman Corey Quintana landed on the men's basketball Second Team All-SCIAC as the lone Kingsmen player honored by the league.
Quintana made an immediate impact for CLU in his inaugural season. The 6-foot-7 center started in 14 of the 15 SCIAC games he played in this year. During league play Quintana shot 47.8 percent from the field as he averaged 12.7 points per game to pace the Kingsmen. Not only was Quintana a threat in the paint, but he shot from the perimeter, knocking down 33.9 percent of his three-point attempts in 2012-13. He was also solid at the stripe, going 21-for-29.
His 5.9 rebounds per game tied him with senior teammate Jayvaughn Nettles for the team-lead. Defensively he provided 23 blocks against SCIAC opponents and came away with eight steals.
Overall, Quintana finished his freshman campaign with 24 appearances, a 43.8 field goal percentage for 9.1 ppg with 30 three-pointers as well as 120 total rebounds, including 24 on the offensive end of the court. He handed out 19 assists and tallied 29 total blocks for CLU.
The 2012-13 men's basketball Player of the Year was Josiah Brensdale from Redlands. The Newcomer of the Year award went to Chris Barnes, a junior from Whittier and the Ducey Award was given to Willie Mebane, a Whittier senior. Quintana was the only freshman to earn accolades this winter.
Cal Lutheran (10-15, 6-10 SCIAC) placed seventh in the conference in 2012-13.
Release: 2013 All-SCIAC Team
Facebook: https://www.facebook.com/clusports