Ballou Upsets No. 1 Ranked Singles Player; CLU Downs No. 9 Trinity
Kingsmen place third at ITA Division III Indoor Nationals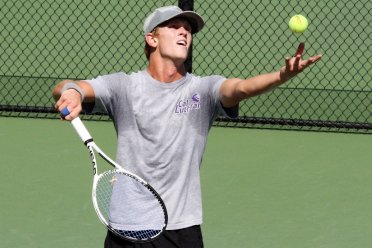 ST. PETER, Minn. – On the final day of the 13th annual ITA Division III National Men's Tennis Team Indoor Championship hosted by Gustavus Adolphus College, No. 11 Cal Lutheran turned in their second upset of the weekend by defeating No. 9 Trinity (Tex.) 6-3.
With the win today the Kingsmen have posted a 2-1 record against the top teams in the country.
"We came into this underrated by the rankings and bloggers," head coach Mike Gennette went on, "but proved them wrong. This should bump our ranking up by at least a few spots if not more."
For the third consecutive day CLU took an early lead after doubles. Alex Nichols and Connor Treacy defeated Nicholas Moreno and Aaron Skinner at the number two spot while Thomas Millet and Marcelo Sousa earned a win over Greg Haugen and Connor Dunn as the number three duo with each pair winning 8-6.
"The biggest surprise for me was our dominance in doubles this weekend," Gennette said. "Alex has been a big boost for us at number two doubles with a new and improved Connor Treacy."
Although the top duo of Nicholas Ballou and Ray Worley were defeated for the first time of the weekend, falling 8-6, each came back to earn singles victories on courts one and two, respectively.
Ballou took down No. 1 nationally ranked Skinner quickly with a 6-1, 6-1 performance for the third CLU point of the match. No. 25 Worley then earned a 6-0, 7-5 decision over Haugen on court two.
About the performance from Ballou this weekend, Gennette noted, "After defeating three ranked opponents and the No. 1 player in the nation, the 2012 national finalist should be number one in the upcoming national rankings."
On the number three singles court Nichols trailed early but used sets two and three to defeat Erick Dela Fuente 0-6, 6-1, 7-6 to clinch the match for the Kingsmen.
At number four Treacy won by retirement of Moreno after taking the first set 7-5 and leading in the second 4-1 when Moreno walked away.
Overall it was a very successful weekend for CLU.
"I think this will be another very strong season for us," Gennette went on, "We again have the toughest schedule in the national and hope to have a great year."
Cal Lutheran (5-1) returns to Southern California with wins over No. 7 Trinity (Tex.) and No. 9 Johns Hopkins while they took an early lead on No. 2 Kenyon. The Kingsmen will be back on the courts March 4 when they host the University of Mary Washington at 1:00 p.m. at the Poulson Tennis Center.
Tournament Website: 2013 ITA National Indoor Championships
Results: CLU 6, TU 3
Facebook: https://www.facebook.com/clusports