Cal Lutheran Wins SCIAC Tournament to Clinch Spot in Division III Playoffs
Regals to find out pairings Monday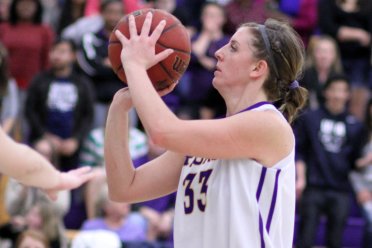 THOUSAND OAKS, Calif. – The Cal Lutheran women's basketball team can rest easy once again during selection Monday.
For the second straight year the Regals clinched an automatic berth into the NCAA Division III tournament by capturing the Southern California Intercollegiate Athletic Conference tournament title.
Bolstered by 18 points from senior guard Jazmyne Porter, top-seeded CLU defeated No. 2 Chapman 59-54 in the championship game Saturday night at Gilbert Arena.
CLU (23-4) will find out its first-round NCAA tournament opponent Monday afternoon when the draw is released.
Last season, CLU captured the SCIAC tournament title as a No. 4 seed with both games on the road.
But this season CLU was able to celebrate its championship at home by virtue of capturing the SCIAC regular-season title for the first time since 2006.
CLU and Chapman (21-6) split the regular-season series, and CLU won the rubber match with a second-half rally.
CLU trailed Chapman 14-3 in the first half and 26-23 at halftime. But the Regals fought back to take a seven-point lead and held off Chapman by hitting free throws down the stretch.
The Regals finished 20 for 26 from the free-throw line, including 13 of 16 in the second half.
Channing Fleischmann scored 12 points and Starla Wright grabbed 10 rebounds for the Regals.
Kimi Takaoka led Chapman with 32 points on 11-of-21 shooting, including 5 of 12 from behind the 3-point line.
CLU managed to defend its SCIAC tournament title despite playing without senior guard Erica Whitley, who injured her knee in the regular-season finale last weekend against La Verne.
The St. Bonaventure High graduate was averaging 10.3 points, 6.8 rebounds, 2.7 assists and a team-leading 30.2 minutes per game for the Regals.