Men's Tennis Battles With No. 2 Kenyon
CLU falls in second round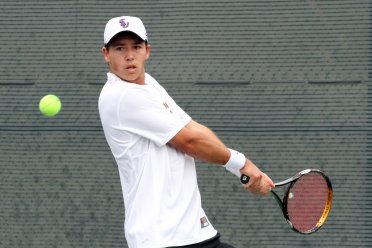 ST. PETER, Minn. – On day two of the 13th annual ITA Division III National Men's Tennis Team Indoor Championship hosted by Gustavus Adolphus College, No. 11 Cal Lutheran took an early lead on No. 2 Kenyon before dropping their first match of the spring by a 6-3 margin.
The Kingsmen took two of three doubles matches with wins on the first and second courts. The No. 2 duo of Connor Treacy and Alex Nichols defeated Sam Geier and Paul Burgin 8-1 for the first decision of the day. After Kenyon evened the score 1-1 by winning on court three by an 8-5 margin, the duo of Ray Worley and Nicholas Ballou pushed the CLU lead to 2-1 with an 8-4 win at No. 1 over CJ Williams and Michael Razumovsky.
Singles started with matches on the number one, three and five courts. Ballou was the fourth match to go complete with a 6-4, 6-1 victory over No. 4 ranked Burgin as the only other CLU victory of the day.
Kenyon inched closer to the Kingsmen with a 6-1, 7-6 win on court five as Tim Rosensteel battled past Thomas Millet. On court three Heerboth, who is ranked No. 5 nationally in doubles, earned the first set 6-2 over Nichols before the CLU junior battled back with a 7-5 win in set two. In the end it was Heerboth who returned the favor and clinched the match with a 7-5 win to close it out.
At No. 2 Worley got out to an early lead by winning the first set 6-4, but Razumovsky came back to win the next two 6-2, 6-4 for Kenyon. Treacy and Williams also went to three sets with Wilson winning 6-4, 4-6, 6-3 at No. 4. Rounding out the competition Kevin Ye earned a 6-4, 6-1 win over Marcelo Sousa.
Cal Lutheran (4-1) concludes the tournament tomorrow, Sunday, Feb. 24 against No. 5 Trinity (TX) in the third place match. Kenyon advanced to face No. 1 Emory in the Championships.
Tournament Website: 2013 ITA National Indoor Championships
Full Day Two Recap: 2013 ITA National Indoor Championships Day Two
Results: KEN 6, CLU 3
Facebook: https://www.facebook.com/clusports