Regals Drop Close One to Panthers
CLU falls 5-4 to Chapman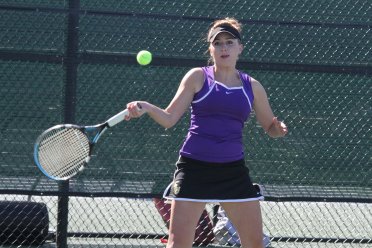 THOUSAND OAKS, Calif. – The Cal Lutheran women's tennis team dropped a close match to Chapman 5-4 Saturday afternoon at the Poulson Tennis Center. Trailing 4-3 going into the final two singles matches, Chapman got winning performances from Genna Ford and Kelly Klebenow to clinch the victory,
The No. 1 doubles duo of Sarah Baker and Emily Werman got CLU off to a strong start, defeating Andrea Hammer and Sophia Duong 8-3 in the first match of the day. Unfortunately, neither the No. 2 pairing of Jacqueline Ramsay and Lauren Toohey or the No. 3 group of Carly Mouzes and Lindsay Murphy could pull out the victories with both duos falling 8-3.
Werman won her No. 2 singles match against Sophia Duong 7-6 (5) and 6-1 to earn the Regals first singles points of the day. No. 3 Sarah Baker followed suit, making quick work of Arielle Kubetschek 6—2, 6-0.
After dropping the first set 6-1, Mouzes rallied and took the next two sets 6-1, 6-3 over Chapman No. 4 Anna Nelson. Mouzes also gave CLU the lead at 5-3 heading into the final matches.
Despite playing hard, Ford out-dueled Ramsay in the No. 5 singles match, taking it in straight sets, 6-2, 6-1.
Klebenow won the No. 6 singles match 6-2, 6-0 to give Chapman the decisive point and their first league win as the newest member of the Southern California Intercollegiate Athletic Conference (SCIAC).
Cal Lutheran (3-3, 0-2 SCIAC) returns to action Friday, March 1, as they take on Caltech at the Poulson Tennis Center with the first matches starting at 2:00 p.m.
Results: CU 5 CLU 4
Facebook: www.facebook.com/clusports