Regals, Panthers to Clash in Final
CLU one game from Automatic Bid to NCAA Tournament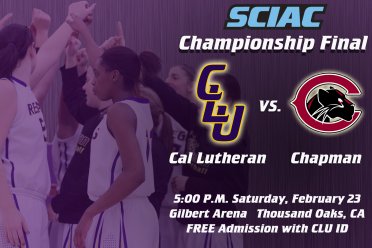 THOUSAND OAKS, Calif. – Both Southern California Intercollegiate Athletic Conference (SCIAC) Post Season Tournament semifinals were decided by two points. Cal Lutheran needed overtime to advance and Chapman disposed of an 11-point halftime deficit to earn the opportunity to play on Saturday. The Regals and Panthers will claw it out on the court at 5:00 p.m. in the Gilbert Arena on Feb. 23.
Last year Cal Lutheran won the event and is now one victory away from earning back-to-back automatic bids to the NCAA Tournament.
No. 1 seeded Cal Lutheran (22-4) will host No. 2 seeded Chapman (21-5) in the championship game. During the regular season the teams split with each team winning at home. Early in the season CU upended CLU 75-71 at the Hutton Center before CLU earned a 52-49 home victory on Jan. 19.
Coming off an adrenalin filled game with a packed crowd supporting the Regals, Cal Lutheran will return to their home floor to host a Chapman team that extended their win-streak to nine with their come-from-behind effort.
CLU had strong performances across the board as each player to step on the court contributed. Starla Wright and Channing Fleischmann each recorded a double-double and Keeley Anderson chipped in with 11 points. Wright shared the game-high with 20 points, adding 13 rebounds, which included eight offensive, as well as a block, a steal and an assist. Fleischmann tallied 17 points with 13 boards, three assists and a pair of steals. Anderson and Natalie Stone each had six rebounds and Stone hit a clutch three-pointer, also going 3-for-3 at the free-throw line for the Regals. In her first start of the season Jazmyne Porter assumed a huge role and produced with a game-high four assists and three steals while adding seven points and eight rebounds. Alex Nelson came up huge in the end with a block that secured the win after scoring seven points and coming away with both two steals and two assists. Rachel Heagy scored four points with two rebounds, a block and an assist in just 15 minutes of action. CLU shot 32.8 percent from the flop, hitting 80.6 percent of their free-throws as a unit.
At Chapman five different Panthers reached double figures with Anne Yoshimura leading the pack with 15 points on 6-for-8 shooting with two assists. Andrea Villanueva scored 14 and Sandra Gao, Emily McCoy and Kimi Takakoa each tallied 11. Gao had a game-high nine rebounds and added a pair of steals. Villanueva led all players with four steals and had two blocks as did Takakoa. CU shot 45.3 percent from the field and just 60 percent from the charity stripe.
Tickets will be sold at the entrance to the Gilbert Arena. Children under the age of 12, current students, faculty and staff with ID receive free admittance. Admission for all others is $5. Merchandise will also be sold. Doors will open at 4:00 p.m.
Visitor Information: Thousand Oaks Campus
Campus Map: CLU Campus
Website: Cal Lutheran Women's Basketball
Facebook: https://www.facebook.com/clusports