Bulldogs Outlast Regals on Senior Night
Redlands rebounds past Regals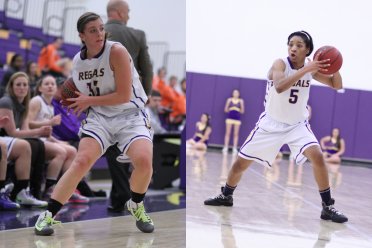 THOUSAND OAKS, Calif. – With one game to play the 2012-13 Cal Lutheran women's basketball team has locked up at least a share of the Southern California Intercollegiate Athletic Conference (SCIAC) regular season title. Unfortunately, it did not come on a senior night to remember as the Regals fell, 72-63, to Redlands at the Gilbert Arena this evening.
Starla Wright had 20 points and 12 rebounds while fellow senior Channing Fleischmann knocked down four three-pointers, but the Regals could not overcome a 9-2 Redlands run to start the second half.
The first half was back-and-forth as neither team held a lead larger than four points. Cal Lutheran got off to a slow start, going 2-9 (22%) from the field as Redlands raced out to a 12-4 lead with 15:21 left to play in the first half.
However, the Regals responded with a 12-3 run over the next five minutes. Keeley Anderson got things started after coming off a screen and burying a three-pointer. Rachel Heagy scored on the following possession after receiving a dazzling no-look pass from Jazmyne Porter. Wright pulled CLU even at 14-14 after she hit a three-pointer from the left corner a minute later. Redlands would sink a free-throw on the next possession but Porter would give Cal Lutheran their first lead at 16-15 after she hit a pull-up jumper from the top of the key.
The Regals stretched their lead to four when Erica Whitley hit a three-pointer from the right corner but Redlands would go on a 9-4 run to retake the lead at 27-25 with 4:59 left in the first half.
A minute later with the Bulldogs up 29-27, Fleischmann swished a three to put CLU back up by one. The lead was short-lived however, as Redlands would a make free-throw on their next possession and tie the game at 31-31 with 3:38 to play in the opening stanza.
After Redlands scored on back-to-back possession inside the last minute, Porter drove to the basket and drew a foul. The senior would hit both free-throws and send the teams into halftime with CLU trailing by just a pair at 35-33.
Cal Lutheran jumped back out in front at 36-35 after Fleischmann nailed a three-pointer 10 seconds into the second half. Redlands reclaimed the lead after they countered with a 9-2 run aided by a three-pointer from Ashley Sevilla and a jumper from Claire Stach. After two free-throws from Wright, Stach hit another jumper and Brittany Oster made a lay-up in traffic to put Redlands up by six at 50-44.
Following a timeout, Cal Lutheran regrouped and got two straight baskets from Wright and cut the Bulldog lead to two with 15:43 left to play.
Redlands would come up with three crucial offense rebounds over the next four minutes as they reclaimed the lead at 51-44.
Heagy would bring the crowd to their feet after she hit a lay-up as she was fouled and sunk the and-one free-throw to bring CLU back to within four.
Stach came through for Redlands when they needed her though, sinking a three on the very next possession that put the Bulldogs up by eight and put the game out of reach.
CLU was led by Wright who had her ninth double-double of the season. Fleischmann finished with 12 points while Whitley chipped in with 11. Heagy nearly pulled off her second double-double of the season with nine points and eight boards. In addition to those four seniors, Thursday night's contest was also the final home game for Porter, Alex Nelson, and Taylor Autry.
Redlands was led offensively by Stach, who poured in 22 points. Sevilla was second with 15 and Marika Staton rounded out the scorers in double-figures with 12 points.
Cal Lutheran (20-4, 12-3 SCIAC) rounds out its regular season Saturday, Feb. 16, when they travel to La Verne and take on the Leopards at 5:00 p.m.
Box Score: UR 72 CLU 63
Facebook: www.facebook.com/clusports