CLU Seniors Bonded for Success
Seniors look to close out careers on top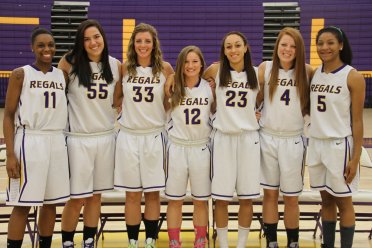 THOUSAND OAKS, Calif. - Before they even played a game as teammates, they were roommates.
Channing Fleischmann, Starla Wright and Erica Whitley lived together during their freshman year at Cal Lutheran.
The random arrangement helped forge a close bond that has only strengthened over time.
The trio has formed the core of one of the most successful senior classes in CLU women's basketball history.
The class has won 71 games, which is tied for third best with the 2002 class. Only the 2000 (73) and 2001 (77) classes have more wins.
CLU (20-3, 12-2) would have to win the NCAA Division III title to reach the top spot, but the Regals are on pace to continue climbing.
CLU is in first place in the Southern California Intercollegiate Athletic Conference standings with two regular-season games remaining this week before tournament play begins.
The Regals became just the third team in program history to reach the 20-win plateau when they beat Pomona-Pitzer on Saturday night.
Fleischmann, Wright and Whitley have combined to score 2,686 points and grab 1,528 rebounds.
Fleischmann ranks in the top 10 in program history for rebounds, 3-pointers made and blocked shots. Whitley is in the top 10 in rebounds, steals, 3-pointers made and blocked shots while Wright is in the top 10 in rebounds and free throws made.
"They would be the first to say it's not about the three of them, but all of their teammates for the past four seasons," CLU head coach Roy Dow said. "To my mind's eye, those three so wonderfully complement each other. Curiously, they do not appear in the single-season record books expect for the most important category — wins."
The three have played together so long, they know each other's every move on the court.
Whitley knows she can pass to Fleischmann in the short corner or feed Wright in the post or flashing in the middle of the key.
"I think the chemistry off the court is what has really helped us be great," said Whitley, a St. Bonaventure High graduate. "We know each other's personalities and we can tell when someone is feeling it or when someone is not and when they need to be picked up."
All three have outgoing personalities and like to joke around. But once they hit the court, it's all business.
"We are very competitive and I know I can count on them to be as excited as I am about the competition in the game," Wright said. "We are not afraid to talk to each other if something is wrong or point out something we see because we know it's all about making the team better and helping us win."
None of the three figured they would receive significant enough minutes as freshmen to compile such lofty career statistics.
Heck, Fleischmann actually thought she might not even make the team.
"I wasn't able to try out on the first day and I thought I was going to get cut," she said. "I had a cold and Coach didn't want me to spread it to anybody else. But I was a dumb freshman and was scared my career was already over."
Once she earned a spot on the roster, Fleischmann expected to remain stuck on the bench.
"I mentally prepared myself to not expect any playing time. I was totally prepared to not be the center of the team for the first time in my life," she said. "So when coach was calling my name in the first game, I thought it was all a dream. My teammates had to push me out there because I was not responding."
Fleischmann, Wright and Whitley have come to depend on each other for much more during their four years at CLU.
"We have pretty much grown together through this college experience," Wright said. "Being roommates helped us from the beginning, on and off the court. We played every day during practice and then hung out all the time and went to lunch and dinner."
The seniors realize they have only a few more games left in their careers, and are hoping to add a few more milestones to their legacy before it's over for good.
"It makes it special we are doing this together," Wright said. "I know it's not just me out there reaching these milestones. It's all of us, and I enjoy seeing somebody else having achievements, too. It's fun watching my friends have good things happen to them."
Facebook: www.facebook.com/clusports