Bulldogs Top Kingsmen on Senior Night
Final home game for Nettles and Williams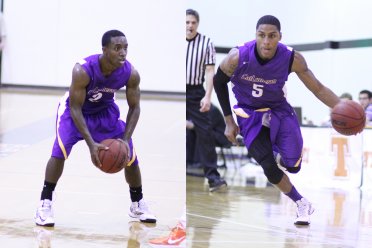 THOUSAND OAKS, Calif. – Freshman Dan Wade scored 17 points and senior Jayvaughn Nettles pitched in with 10 but it was not enough as Redlands spoiled senior night, defeating the Kingsmen 79-56 Wednesday night in Gilbert Arena. The game also marked the final home contest for Nettles and fellow senior Jordan Williams.
Facing the first-place team in the Southern California Intercollegiate Athletic Conference (SCIAC) and fighting to keep its post-season hopes alive, Cal Lutheran played well at times but never recovered from a 12-0 deficit to start the game. The Bulldogs went 9-14 (64.3%) from the three-point line in the first half while also shooting 54.5 percent from the field. Redlands went up 30-16 with 8:02 left to play in the half when Josiah Brensdal and Alex Rudd hit three 3-pointers and back-to-back possessions.
Five minutes later, the Kingsmen responded with a run of their own as Corey Quintana kick-started things with a three-pointer from the top of the key. After CLU got a stop on the defensive end, Wade sunk a shot from beyond the arc and a minute later he nailed a jumper from just inside the three-point line and cut the lead to nine at 37-28 with 3:22 left in the half.
Unfortunately, CLU would not pull any closer as Rudd would hit another three and Matt Calhoun made a jumper as the first half clock expired, putting Redlands up 45-30 at intermission.
The Kingsmen played better defense in the second half, holding Redlands to 14-31 (45%) shooting including 3-11 from three-point range. CLU trimmed the lead to 14 after a Nettles three-pointer made it 47-33 with 18:02 left to play but Redlands scored on their next three possessions to put the game out of reach.
Wade led the Kingsmen with 17 points while Nettles had a solid all-around game with 10 points, five rebounds, five assists and three blocks. Guy Lynott had seven points and six rebounds while Williams scored a basket and handed out an assist in his final home game.
Brensdal led the Bulldogs with 23 points and nine rebounds. Rudd was second on the team with 15 points while Ricky Peetz kicked in with 11.
Cal Lutheran (10-13, 6-8 SCIAC) travels to La Verne Saturday, Feb. 16, to take on the Leopards at 7:00 p.m.
Box Score: UR 79 CLU 56
Facebook: www.facebook.com/clusports