Regals Open Spring Portion of Schedule
CLU competes in tough field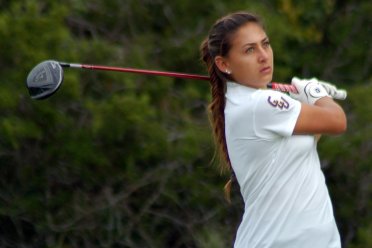 SAN DIEGO, Calif. – For the first time this spring the Cal Lutheran women's golf team teed up for competition, competing in day one of the Point Loma Nazarene University Super San Diego Challenge at Riverwalk Golf Course today.
With four freshmen and a senior, the Regals combined for a 368 (+80), finishing third among Division III schools and 17th overall.
Freshman McKay Weiler was consistent today, shooting a 43 on both the front and back nine to finish with a CLU low score of 86. She finished day one tied for 53rd in a field of 109.
Second for the Regals was freshman Danika Cochiolo who got off to a hot start, shooing a front-nine 41 before struggling on the back nine with a 50 to finish at 91.
Another freshman, Aida Mahfood, was the third CLU golfer to score with a 93 after shooting a 45 to open and a 48 to close.
Rounding out the golfers for the Regals were freshman Devon Meredith and senior Lisa Borgialli who each shot a 98 today.
Individually, Megan Woodland from the University of Victoria, Canada was the Day One leader as the only golfer to shoot under par with a 70.
After the opening day Grand Canyon University and Sonoma State share the lead with 315 (+27) apiece
Cal Lutheran will join the field of 20 teams back out on the course tomorrow for the second and final round of the 2013 Super San Diego Challenge. Teams will tee off in a shot gun start at 7:30 a.m.
Results: 17th - CLU 368 (+80)
Facebook: https://www.facebook.com/clusports